First Aid Kit: New Album 'The Lion's Roar' Available Now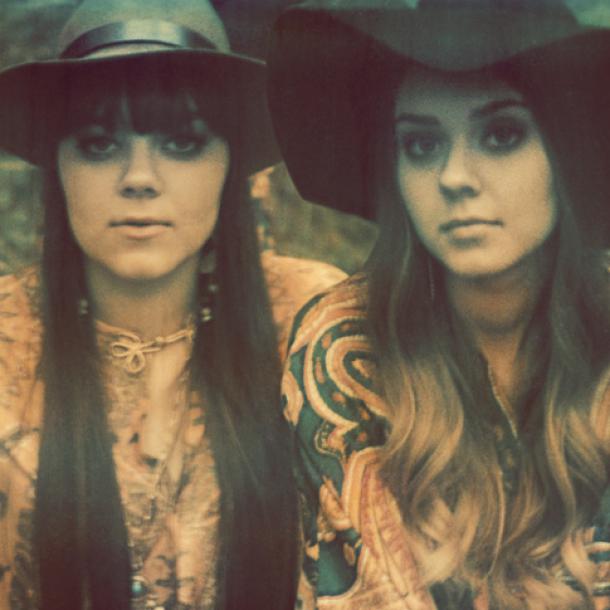 First Aid Kit's sophomore album The Lion's Roar is available exclusively via iTunes now, a week ahead of release in brick and mortar stores. The iTunes album version includes bonus track "Wolf," which has become a staple in their recent live shows across the US and Europe. Described by Relix as "...whiskey-soaked vocals wistfully hover above austere yet radiant arrangements, juxtaposing heart-wrenching lyrics and majestic melodies", the album will be released in all major retailers on January 24th via Wichita Recordings.
The Lion's Roar has already been garnering high praise from the press, including Paste ('25 Albums We're Looking Forward To Most'), SPIN ('25 Winter Albums You've Gotta Hear'), and Teen Vogue ("Mix a generous helping of folk, a dash of country, and a dose of fairy-tale whimsy and you've got this übercool Swedish duo."), among others. The gorgeous, harmony-drenched folk-pop album from sisters Klara and Johanna Söderberg can also currently be streamed in its entirety via NPR Music's Exclusive First Listen series.
Earlier this month, First Aid Kit premiered the video for second single "Emmylou" on Vevo, while the video for the title track first single (and Entertainment Weekly 'Must List' pick) premiered on SPIN.com in November and can now be seen here as well. "Emmylou" is also currently the iTunes free 'Single of the Week', while third album track, "King of the World" (feat. Conor Oberst and The Felice Brothers), is Starbucks' 'Pick of the Week' and can be downloaded as a free MP3 by picking up a gratis download card in all stores.
First Aid Kit will return to North America for a headlining tour this spring, following a nearly six-week long tour of Europe, New Zealand, and Australia. The tour will begin on March 28th at Webster Hall in New York, NY, and will wrap up on April 22nd with their second weekend performance at the Coachella Music and Arts festival in Indio, CA. A full itinerary is below.
The follow up to 2010's highly-praised debut LP The Big Black & The Blue, The Lion's Roar finds First Aid Kit at their finest, singing bittersweet songs that frequently juxtapose sadness and beauty. Whether the glorious title track opener, the achingly lovely "Emmylou", or the distant reverb and atmospherics of "New Year's Eve", the Söderbergs' evocative, preternatural harmonies and remarkable songwriting take centerstage throughout the album. The Lion's Roar was recorded with Mike Mogis (of Bright Eyes and Monsters Of Folk; also producer of Cursive, Lightspeed Champion, Pete Yorn, and many others) in May 2011 at his ARC Studios in Omaha, NE.
First Aid Kit tour dates:
FEB. 3                    LUND, SE                            MEJERIET
FEB. 4                    STOCKHOLM, SE                  DEBASER MEDIS (all ages)
FEB. 4                    STOCKHOLM, SE                  DEBASER MEDIS
FEB. 6                    HELSINKI, FI                       TAVASTIA
FEB. 7                    TURKU, FI                           KLUBI
FEB. 9                    BERGEN, NO                        KVATERET
FEB. 10                  OSLO, NO                            BLA
FEB. 11                  COPENHAGEN, DK                VEGA
FEB. 13                  HAMBURG, DE                      PRINZENBAR
FEB. 14                  COLOGNE, DE                      GEBAUDE 9
FEB. 15                  ROTTERDAM, GE                  PARADIJSKERK
FEB. 16                  BRUSSELS, BE                     PIAS NIGHT @ TOUR AND TAXIS
FEB. 18                  FRANKFURT, DE                   BROTFABRIK
FEB. 19                  BERLIN, DE                         POSTBAHNHOF
FEB. 20                  ZURICH, CH                        MASCOTTE CLUB
FEB. 22                  PARIS, FR                           POINT EPHEMERE
FEB. 23                  LONDON, UK                       KINGS COLLEGE
FEB. 24                  MANCHESTER, UK                ACADEMY 3
FEB. 25                  DUBLIN, UK                         WORKMAN'S CLUB
FEB. 27                  GLASGOW, UK                      KING TUT'S
FEB. 28                  LEEDS, UK                           THE WARDROBE
FEB. 29                  BRISTOL, UK                        THEKLA
MAR. 8                   WELLINGTON, NZ                 WELLINGTON ARTS FESTIVAL
MAR. 10                 ADELAIDE, AU                      WOMAD FESTIVAL
MAR. 11                 MEREDITH, AU                     GOLDEN PLAINS FESTIVAL
MAR. 12                 MELBOURNE, AU                   SPIEGELTENT
MAR. 14                 MELBOURNE, AU                   NORTHCOTE SOCIAL CLUB
MAR. 15                 SYDNEY, AU                          THE STANDARD
MAR. 16                 BRISBANE, AU                      THE ZOO
MAR. 28                 NEW YORK, NY                      WEBSTER HALL
MAR. 30                 WASHINGTON, DC                 BLACK CAT
MAR. 31                 PHILADELPHIA, PA                 UNION TRANSFER
APR. 2                    BOSTON, MA                         BRIGHTON MUSIC HALL
APR. 3                    MONTREAL, QC                      LA SALA ROSSA
APR. 4                    TORONTO, ON                       THE GREAT HALL
APR. 6                    CHICAGO, IL                         LINCOLN HALL
APR. 7                    MINNEAPOLIS, MN                 CEDAR CULTURAL CENTER
APR. 10                  VANCOUVER, BC                    VENUE
APR. 11                  SEATTLE, WA                         THE CROCODILE
APR. 12                  PORTLAND, OR                      DOUG FIR LOUNGE
APR. 15                  INDIO, CA                             COACHELLA
APR. 18                  SAN FRANCISCO, CA              SLIM'S
APR. 22                  INDIO, CA                             COACHELLA
AUG. 31-SEPT. 2     NORTH DORSET UK                 END OF THE ROAD FESTIVAL