First City Festival 2013 | Preview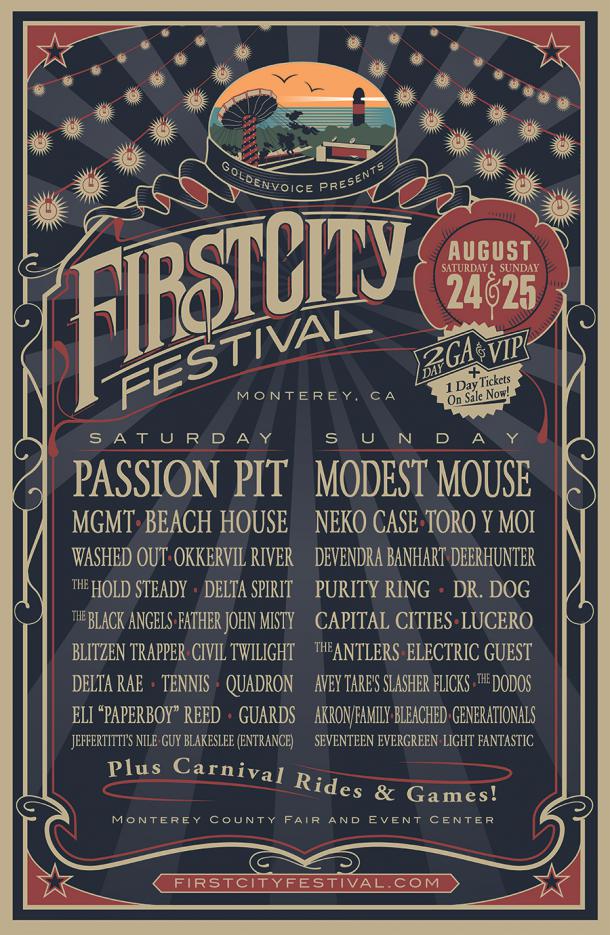 Forty-six years ago, Jimi Hendrix took the stage at the Monterey Pop Festival and set his guitar on fire, ushering in a new definition of rock and roll. This August, on the very same Monterey County Fairgrounds that also boasted The Who, Janis Joplin, Jefferson Airplane, Otis Redding, The Dead, and Ravi Shankar (among many others) on that historic weekend in June 1967,  Goldenvoice is bringing the music back to Monterey with First City Festival.
The festival, which takes place on August 24 and 25, will be headlined by veterans Modest Mouse (who turned TWENTY this year!) and recent scene-stealers Passion Pit. Let's hope the main acts leave the drama at home though: Modest Mouse announced First City as the inaugural performance to a full tour, only to cancel every show except the festival date shortly thereafter to work on their new album. (They now have three shows scheduled leading up to the fest; one in California, one in Nevada, and one in Malaysia.) Passion Pit's track record isn't much better, with past tours having been riddled with cancellations due in part to lead singer Michael Angelakos's struggle with bipolar disorder. Last month at Firefly Festival, though, Angelakos walked off the stage half an hour early after losing his voice, citing allergies to blame for the misfortune.
The good news is, even if the headliners flake, First City Festival's supporting lineup is beyond solid enough to stand on its own. It's a collective of some of the weirdest, most exciting acts currently orbiting the independent music scene: MGMT, Neko Case, Beach House, Father John Misty, Devendra Banhart, Dr. Dog, Toro Y Moi, The Dodos, Capital Cities, Blitzen Trapper, Akron/Family...just go here to buy your ticket. (If you're not quite convinced, check out the full lineup here.) $149.50 for a 2-day pass or $85 for a single-day pass isn't a bad price to pay when each set has the potential to be better than the previous. (And hey—no fees!)
First City Festival is taking its fairgrounds setting literally and adding some thrill to the weekend with carnival rides and games, and a real live Vaudeville variety stage. Unlimited rides passes will run you $22.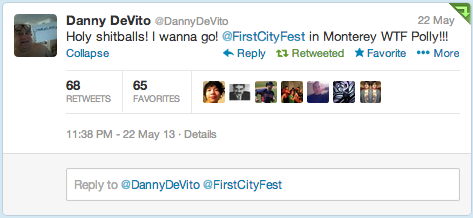 Danny and I will see you there.