Fleck, Harrison, Wooten Adore Jake Shimabukuro
Submitted by mike on Thu, 12/23/2010 - 00:01
Critics have raved about the artistry Jake Shimabukuro displays on 'Peace Love Ukulele' (out January 4th from Hitchhike Records). The New Yorker said that "in his hands... the ukulele becomes a source of beauty, power, and inspiration."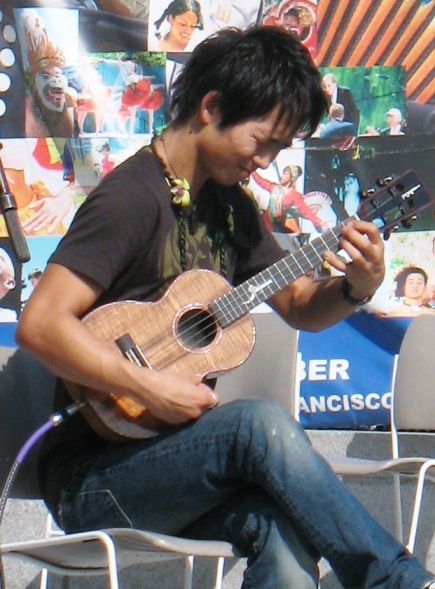 Jake's fellow musicians agree. Here's what some of them had to say:
"The way Jake plays the 'ukulele is amazing and beautiful... he's a special musician." - Bela Fleck
"To say that Jake is incredible is not enough. He is much more than that. His music takes you on a journey. He plays with so much expression, feeling, and soul; it's like he's an old man in a young man's body. It only takes one listen to understand exactly what I'm saying." - Victor Wooten
"George felt liberated playing the uke and loved it because it made everyone smile. I especially love Jake's versions of George's songs." - Olivia Harrison
"It gives me a great deal of satisfaction to know that I was able to contribute in some way to the rest of the world hearing Jake play. From the moment I first heard his amazing style and watched the audience reaction in a club on the waterfront in Honolulu, I knew he was a unique and universal talent. We all at Mailboat Records are proud and excited to be distributing his latest release, and it gives me another good excuse to get back to Hawaii for 'business' - work, work, work..." - Jimmy Buffett
"Instrumentalists with a truly unique voice on their instrument come around very rarely. It was such a welcome gift to the world when Jake came on the scene... someone whose mastery of the ukulele is eclipsed only by the sheer joy he spreads in playing it. Jake Shimabukuro is without a doubt, one of a kind!" - Dave Koz
Listen to the hard driving "Bring Your Adz" from 'Peace Love Ukulele' here.