Fool's Gold Set To Release New Album, Leave No Trace
Submitted by mike on Tue, 05/17/2011 - 01:48
Fool's Gold was originally formed in Los Angeles by Lewis Pesacov and Luke Top as a large open-ended collective, at times ranging between 12-15 members. After many tours following the release of their self-titled debut album (2009), they organically evolved into a tight-knit five-member "band," featuring vocalist/bassist Luke Top, guitarist Lewis Pesacov, drummer Garrett Ray, multi-instrumentalist Brad Caulkins, and percussionist Salvador Placencia. Confident, focused and much more personal, this new line-up allowed for the dynamic of the group to blossom, redefining and sculpting their sound for the sophomore LP: Leave No Trace.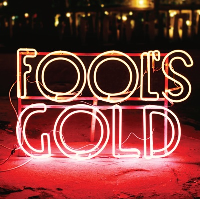 Much of Leave No Trace was written the last week of 2010, during late night and early morning sessions in a rented house in Wonder Valley, CA, at the edge of the Mojave desert. Produced by Pesacov (who also produced the Best Coast LP), the majority of the album was recorded live in one room at Infrasonic Studios in Alhambra in East LA, on a slow speed on an old 2" tape machine, the perfect format to capture the sonic warmth of the hazy, late night musical space these songs engender. The music on Leave No Trace is built on soulful vocals, evocative lyrics, driving beats, tightly wound percussion, and warm synthesizers, all woven together with interlocking, nimble and slashing guitar lines, and influenced by a shared love of the music from the Caribbean and Africa, 60s soul and blues, and synth-based English new wave.
Those familiar with Fool's Gold will quickly realize an obvious distinction on Leave No Trace: the new record is sung predominately in English, an intuitive choice for Top, much in the way the debut album leaned towards Hebrew. Whereas singing in Hebrew on the debut allowed Top to find his voice and come out of his shell as a performer and songwriter, as the words and more personal themes for the new record started to take shape, he knew he had to express them as clearly as possible, both to himself and to the listener, in English.
Fool's Gold's Leave No Trace is out August 16th on IAMSOUND.
-
Leave No Trace tracklisting:
01. The Dive
02. Wild Window
03. Street Clothes
04. Leave No Trace
05. Balmy
06. Narrow Sun
07. Tel Aviv
08. Mammal
09. Bark and Bite
10. Lantern