Former Thieves Announce Debut Album
Submitted by mike on Tue, 02/08/2011 - 05:14
Former Thieves have been a band characterized by their hard work and grueling tour regimens in their seemingly short life span. But, that's about to change with their debut full length on No Sleep Records.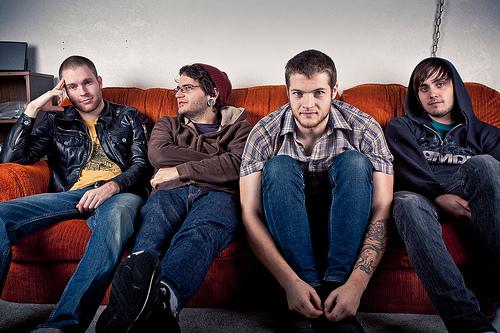 Coming from the barren and simple fields of Iowa, Former Thieves have created a pummeling new record that personifies the feelings and emotions of coming from nothing and fighting the entire way to what they have created. "The Language That We Speak" takes the listener through a thorough commentary on the frustration of Midwestern life. Articulate, sharp, and sincerely pissed.
Recorded December 1st through 10th 2010 at The Red Room in Seattle, WA with Chris Common (Mastodon, The Sword) at the helm, No Sleep Records looks to release "The Language That We Speak" on Tuesday April 19th 2011. The record will be released on CD, vinyl, and digital formats and recalls the sounds made famous by the likes of Converge, Botch, Coalesce, and Modern Life Is War while maintaining its own unique formula.
Watch the first short video feat. studio footage of the band here!
--
Former Thieves Live!
03/16/11 - Kansas City, MO @ Salt Walter Taffy House
03/18/11 - Austin, TX @ The Mellow Mushroom
03/19/11 - Austin, TX (SXSW)
03/20/11 - Austin, TX (SXSW)
03/23/11 - Hattiesburg, MS @ 1126 House
03/26/11 - Columbia, SC @ House of Hardcore
03/28/11 - Greensboro, NC @ Legitimate Business
03/29/11 - Richmond, VA @ The Barn
03/30/11 - State College, PA @ La Casa Blanca
04/01/11 - Louisville, KY @ Ear X-Tacy
04/02/11 - St. Louis, MO @ Lemp Arts