Formerly the Warlocks...always The Dead
Submitted by mike on Fri, 08/27/2010 - 21:53
If you weren't in the know in Southern Virginia in early October of 1989, then you probably missed an epic pair of "stealth" shows the Dead played under the guise of their original name "The Warlocks." As The Warlocks, the boys found a way around their town ban and we've found a way to bring you those historic October 8 & 9, 1989 Hampton Coliseum shows as the latest in a distinguished line of complete-run boxes.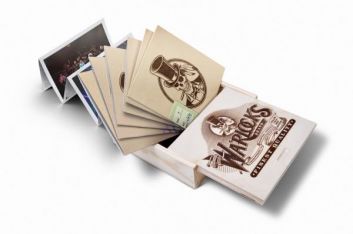 That's right, the Warlocks Box showcases every note of the band's two magical nights at Hampton Coliseum, spread over six CDs. From a "revival" of old favorites including the elusive "Dark Star," and the long-lost "Attics of My Life" (unplayed since 1972!) to crowd-pleasing nuggets like the spectacular "Morning Dew," the raucous "I Need a Miracle," and the incendiary Brent/Phil stomper "Gimme Some Lovin'," this collection offers up a veritable career retrospective. And quite a transcendent one at that!
Mixed from the original 24-track analog and mastered to HDCD specifications and packaged in a wooden cigar box filled with photos, essays, and cool memorabilia, this one's a potent blast of the late '80s Dead you won't want to miss.
--
DISC 1
1. Foolish Heart
2. Walkin' Blues
3. Candyman
4. Me and My Uncle
5. Big River
6. Stagger Lee
7. Queen Jane Approximately
8. Bird Song
9. Promised Land

DISC 2
1. Help On The Way
2. Slipknot!
3. Franklin's Tower
4. Victim or the Crime
5. Eyes of the World
6. Rhythm Devils
DISC 3
1. Space>
2. I Need A Miracle
3. The Wheel
4. Gimme Some Lovin'
5. Morning Dew
6. We Bid You Goodnight
DISC 4
1. Feel Like A Stranger
2. Built To Last
3. Little Red Rooster
4. Ramble On Rose
5. We Can Run
6. Jack-A-Roe
7. Stuck Inside of Mobile with the Memphis Blues Again
8. Row Jimmy
9. The Music Never Stopped
DISC 5
1. Playing In The Band
2. Uncle John's Band
3. Playing In The Band
4. Dark Star
5. Rhythm Devils
DISC 6
1. Space
2. Death Don't Have No Mercy
3. Dear Mr. Fantasy
4. Hey Jude
5. Throwing Stones
6. Good Lovin'
7. Attics of My Life