Fox Theatre Celebrates 20th Anniversary in March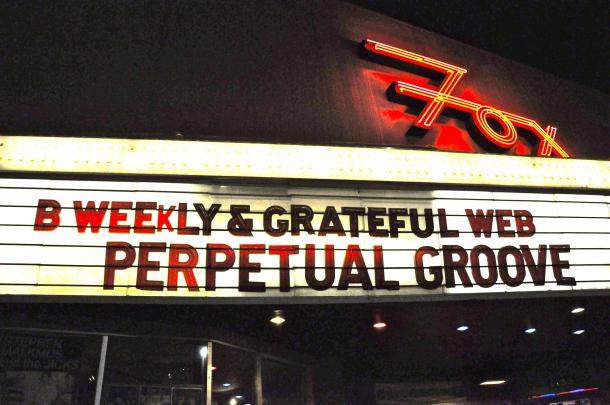 On March 6th, 1992 the Fox Theatre opened its doors in Boulder, Colorado with a performance by the Meters.  The Fox Theatre family is honored The Funky Meters will return to lead the celebration on March 1st to kick off the legendary venue's 20th anniversary month.  Anniversaries are an opportunity to bring family together,  therefore The Fox is excited for Leftover Salmon to perform on March 6th & 7th.  The Boulder based "Polyethnic Cajun Slamgrass"  band paved the way for the national jamgrass scene.
Over the past 20 years, the sheer number of artists who performed on the Fox stage is staggering.  Over 10,000 artists graced the stage at The Fox, many on their way to international stardom. Radiohead, The Dave Matthews Band, Phish, The Black Keys, Bon Iver, The String Cheese Incident, Ray LaMontagne, 311, Jack Johnson, My Morning Jacket, Deadmau5, Taj Mahal, Coldplay, Run DMC, Moby, The Killers, Wilco, John Fogerty, Bonnie Raitt, Common, Willie Nelson, Dr. John, Gilberto Gil, Femi Kuti, Skrillex, The Black Crowes, Ben Harper, Atmosphere, Counting Crows, Burning Spear, Widespread Panic, Ween, Social Distortion, Michael Franti and Spearhead, The Flaming Lips, Warren Zevon, Kings of Leon, Big Head Todd and the Monsters, The Fray, 3oh!3, Pretty Lights, Ryan Adams, Modest Mouse, The Shins, Gil Scott Heron, John Butler, Robert Palmer, Death Cab for Cutie and No Doubt are just a snippet of incredible performers who started their illustrious careers at The Fox. Whether a young, up and coming local act or a legend, the Colorado community enjoys the best music the world has to offer at The Fox.
For the past two decades, The Fox has tirelessly worked to create the best environment to see live music. It's a true honor for The Fox to celebrate this milestone and we look forward to another 20 years of incredible experiences with the Colorado community we cherish.
To see a full list of artists performing during the anniversary month, visit www.foxtheatre.com