FREE Bonus Disc when you Pre-Order "Ventura" 6-CD Box Set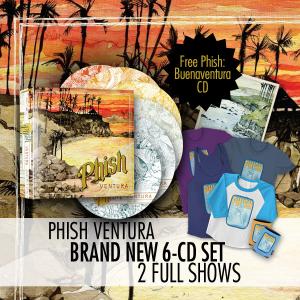 All new 6-CD box set featuring two complete live shows, recorded July 30, 1997 and July 20, 1998 at Ventura County Fairgrounds in Ventura, California, a general admission dirt racetrack between the Pacific Coast Highway and Surfers Point Park. Bits of the each show's Soundchecks are included at the end of both shows.
Everyone who pre-orders "Ventura" from Phish Dry Goods will receive "Buenaventura", a bonus CD featuring ten tracks handpicked from Phish's March 21, 1993 Ventura Theatre show, while supplies last. All pre-orders also receive special shipping rates.