Freekbass- Free Album Download Today!
Submitted by press on Tue, 05/24/2011 - 22:47
From the mind of
Freekbass
, comes his 5th full-length release:
CONCENTRATE
, which continues to expand his horizons and soundscape.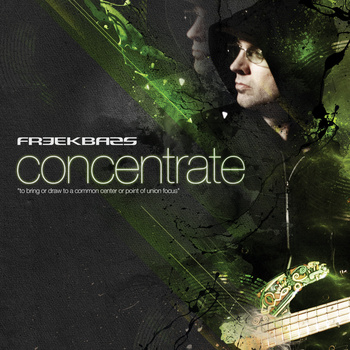 While most kids were listening to Nirvana and Green Day, he connected with the bottom-heavy sounds coming out of the boom boxes like Zapp and Midnight Star. While working in a music shop to pay off his first electric bass he had in lay-away, he began to study the classics of Larry Graham, Sly Stone, Stevie Wonder, Parliament and Bootsy with a bass in one hand, and an MPC2000 in the other.
Today! The free
download
for "Concentrate" is now available! |
Download
"Concentrate" for free
here
.
Guests on "Concentrate" include: DJ Spooky, Adam Deitch (Pretty Lights/Lettuce), Steve Molitz (Particle, Phil&Friends, Headtronics), Tobotius (Animal Crackers,Science Faxtion), Bootsy Collins, Skeetones, You,You're Awesome, Ian McQuire/Sonic Spank.