Fujiya & Miyagi Announce 2012 US Tour Dates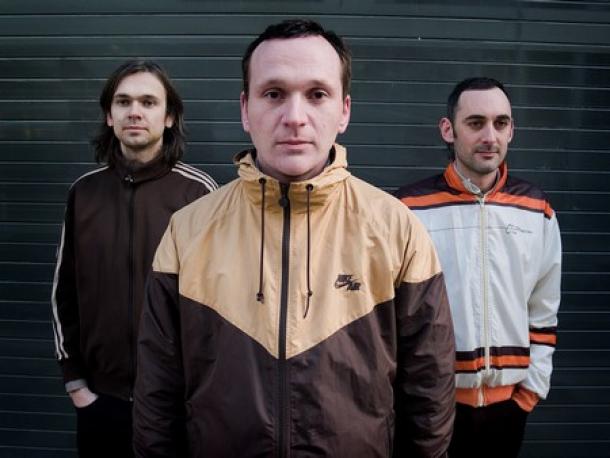 British electronic funk superstars Fujiya & Miyagi return to the United States this winter with a new single, "Ecstatic Dancer," and a tour that kicks off Jan. 19 in Brooklyn and winds up Feb. 1 in Los Angeles. (Check above for exact dates/venues).
"Ecstatic Dancer" is a whirling frenzy of foreboding fuzzed guitars laid over a pumping synth beat. David Best's whispered urge to join him on the dance floor are equal parts seductive and sinister. Download the song, which is approved for posting on your website/blog for free giveaway.
The band's fourth album, Ventriloquizzing, found Fujiya & Miyagi returning with a renewed –if not darker—sense of purpose. The four piece band—singer/guitarist David Best, bassist Matt Hainsby, synth player Steve Lewis and drummer Lee Adams—found inspiration in ventriloquist dummies and the people behind the wooden weirdos.  They even went so far as to have a set of four Fujiya & Miyagi dummies made up, initially with the idea of sending them to photo and video shoots in place of the band.
"Ventriloquizzing comes from the idea of people speaking for you, like adults do with babies," Best said. "Dummies are thought of as creepy; they can reflect a split personality, and that relates to the idea of being in a group, where you are presented as one entity, even though everyone comes from different angles and thinks about one thing very differently from the others."
From the glam stomp of deeply demented "Sixteen Shades of Black & Blue" and on, the mood on Ventriloquizzing—produced by Thom Monahan (Vetiver, Au Revoir Simone Devendra Banhart)—is forceful, aggressive and confrontational while maintaining the taut, minimalistic funk that's become their calling card.
"It's quite an accusatory record, but you never know why, or what the target of the accusation has done," Best said. "I think there's an underlying anger, or perhaps just annoyance, at institutions and people in general, and probably ourselves too.
-
US Tour Dates
1/19 - Glasslands - Brooklyn, NY
1/20 - Johnny Brenda's - Philadelphia, PA
1/21 - Mercury Lounge - NY, NY
1/22 - Great Scott - Allston, MA
1/23 - La Sala Rosa - Montreal, QC
1/24 - Wrong Bar - Toronto, ON
1/25 - Lincoln Hall - Chicago, IL
1/26 - Electric Owl - Vancouver, BC
1/27 - Neumos - Seattle, WA
1/28 - Mississippi Studios - Portland, WA
1/30 - The independent - San Francisco, CA
1/31 - Casbah - San Diego, CA
2/1 - Echo - Los Angeles, CA