Furthur: Weir, Lesh, Chimenti & Kadlecik
Submitted by press on Fri, 08/28/2009 - 02:20
FURTHUR!
John Kadlecik, our lead guitarist and founding member of DS0, has been invited to join Furthur for a few dates in September. John has graciously accepted this invitation and is honored and thrilled to perform with Phil Lesh, Bob Weir and others. We wish him the best of luck with this project and cannot wait to see and hear John play with our heroes...for Furthur info click HERE.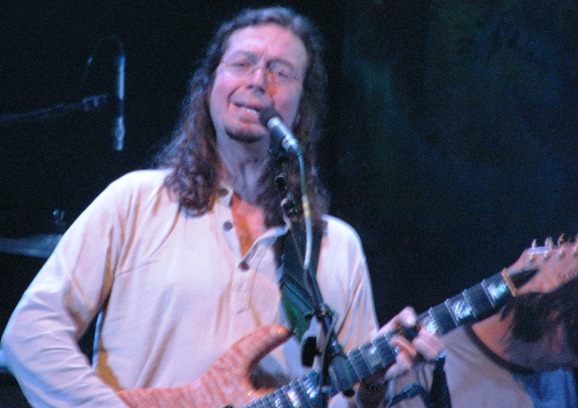 Announcing More Tour Dates...
After some mountain air and pacific sun on the Rex Caravan Tour the band will take a few weeks off before returning to East Coast for an extensive tour. We are excited to revisit some of our favorite east coast haunts this fall. Check out DSO at the tour kick-off at the Palace Theatre in Albany, feel the brotherly love in Philly, celebrate DSO's 12th Anniversary in Hagerstown, wave that flag in DC, return to the scene of the crime in Ithaca or hit the big apple for two nights at the Nokia Theatre. The bus will be laying rubber all over the east coast and we hope you can come along for the ride!
Check out the full tour schedule HERE.
Black Tie-Dye Ball in Portland Sept 25 Supports the Rex Foundation
Come celebrate this tradition of music and giving as Dark Star Orchestra and The Rex Foundation team up to present another epic gala event, The Black Tie-Dye Ball held September 25 at the Crystal Ballroom in Portland, OR. Proceeds help support local area non-profit programs and further the grassroots giving that is the core of The Rex Foundation's mission.
Together, with The Rex Foundation we demonstrate the power of the musical community to provide essential seed grants to smaller non-profits doing great work in many different ways. Thank you for your support. We look forward to seeing you on September 25.
Get information on this awesome event and to secure your tickets or VIP package HERE.
Jam Cruise 2010
As the summer winds up, so does your chances to book your cabin on Jam Cruise 8! The kind folks of Jam Cruise want to let you know that there are less than 50 cabins left for the adventure in January 2010, setting sail from Ft. Lauderdale heading to Jamaica and the Cayman Islands. Dark Star Orchestra is thrilled to be back on board and we want to make sure you come with us. Picture this in the winter: a luxury cruise line, tropical locations, and music day and night. Did we mention some of our dear friends are also on board: Railroad Earth, Steve Kimock, Hot Buttered Rum, and 20 more bands.
For more information and to book your cabin today, visit http://www.jamcruise.com/.
TOUR DATES

DATE
VENUE
CITY
DSO TICKETS
FURTHUR: Phil Lesh, Bob Weir, John Kadlecik, Jeff Chimenti, Jay Lane, Joe Russo
09/18
The Fox Theater
Oakland, CA
 
09/19
The Fox Theater
Oakland, CA
 
09/20
The Fox Theater
Oakland, CA
 
Rex Caravan Fall Tour
09/24
The Showbox at the Market
Seattle, WA
 
09/25
Crystal Ballroom - Black Tie-Dye Ball
Portland, OR
 
09/26
Crystal Ballroom
Portland, OR
 
09/27
McDonald Theater
Eugene, OR
 
09/29
Grand Sierra Resort
Reno, NV
TICKETS
10/01
Senator Theatre
Chico, CA
TICKETS
10/02
The Fillmore
San Francisco, CA
 
10/03
The Fillmore
San Francisco, CA
 
10/04
The Fillmore
San Francisco, CA
 
10/06
Mystic Theater
Petaluma, CA
TICKETS
10/08
Rio Theatre
Santa Cruz, CA
TICKETS
10/09
Music Box at Henry Fonda Theatre
Hollywood, CA
TICKETS
10/10
Wave House
San Diego, CA
TICKETS
10/11
Hard Rock Cafe
Las Vegas, NV
 
10/14
The Depot
Salt Lake City, UT
TICKETS
10/15
The Depot
Salt Lake City, UT
TICKETS
10/16
Fillmore Auditorium
Denver, CO
TICKETS
10/17
Aggie Theater
Ft Collins, CO
 
Just Announced
11/06
Palace Theatre
Albany, NY
TICKETS
11/07
Electric Factory
Philadelphia, PA
 
11/08
Strand-Capitol Theater
York, PA
 
12th Anniversary Show
11/11
Maryland Theatre
Hagerstown, MD
 
11/12
Carnegie Music Hall of Homestead
Munhall, PA
 
11/13
Nightclub 930
Washington, DC
TICKETS
11/16
McCarter Theater
Princeton, NJ
TICKETS
11/18
State Theatre
Ithaca, NY
TICKETS
11/19+
The Klein
Bridgeport, CT
 
11/20+
Calvin Theatre
Northampton, MA
 
11/21+
Memorial Auditorium
Lowell, MA
TICKETS
11/24
Westcott Theater
Syracuse, NY
 
11/25+
Penn's Peak
Jim Thorpe, PA
 
11/27
Nokia Theatre
New York, NY
 
11/28
Nokia Theatre
New York, NY
 
11/30
Higher Ground
Burlington, VT
 
12/01
Higher Ground
Burlington, VT
 
Cruisin into 2010
01/03/2010
Jam Cruise 8
Caribbean, OC
 
01/04/2010
Jam Cruise 8
Caribbean, OC
 
01/05/2010
Jam Cruise 8
Caribbean, OC
 
01/06/2010
Jam Cruise 8
Caribbean, OC
 
01/07/2010
Jam Cruise 8
Caribbean, OC
 
01/08/2010
Jam Cruise 8
Caribbean, OC
 
+ w/ Donna Jean Godchaux Band w. Jeff Mattson