GarciaLive Volume 1: Capitol Theatre, 3/1/80 | Preview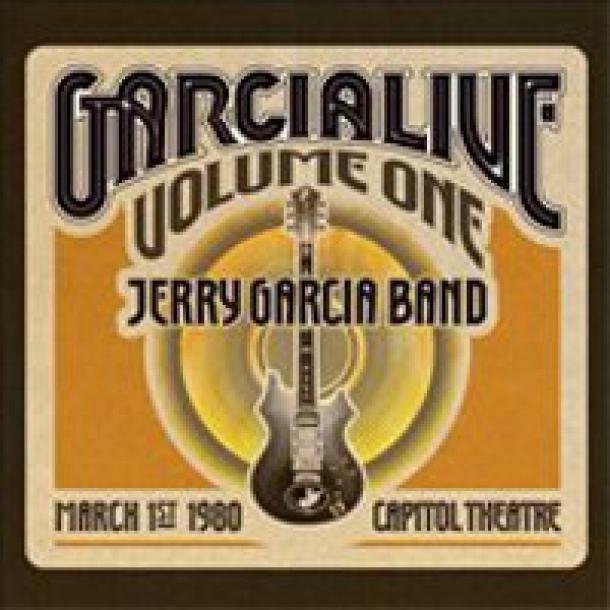 Fans of the Grateful Dead's Dick's Picks and Dave's Picks series will welcome a new archival series of live Jerry Garcia Band recordings that debuts tomorrow (Feb. 19) with the release of GarciaLive Volume 1. The 3-CD set features the complete performance of the JGB (there was an early show and a late show) at the Capitol Theatre in Passaic, NJ, on March 1, 1980.
The shows were originally recorded in multi-track for live broadcast by New York radio station WNEW-FM. The choice of a 1980 show for the debut of this new series is a good one, pairing superior live-recording technology with Garcia and his band still in prime form. The sound quality produced by the remastering is excellent, certainly far better than would have been heard during the original broadcast. It's easily as good as the best of the Dick's/Dave's Picks releases.
The Capitol Theatre show came at the end of a short East Coast swing by Garcia, who was joined at the time by John Kahn on bass, Ozzie Ahlers on keyboards and Johnny de Foncesca on drums. The early show opens with a stunning and lengthy (nearly 15 min.) version "Sugaree" that includes at least three separate solos by Garcia.  The setlist over the two shows includes most of the staples of the JGB's repertoire at the time, including "Catfish John," "How Sweet It Is," "Simple Twist of Fate," "Sitting in Limbo" and "Mission in the Rain." The first show is the better of the two, with solid tracks from start to finish. The second set flags at times, such as on the pair of tracks on which Garcia is joined by his longtime writing partner Robert Hunter. But it's redeemed by a top-flight "Dear Prudence" that closes out the night.
The 3-CD set was originally slated for a November 2012 release (if you're like me, you may have received an email six months ago heralding its arrival), but was pushed back for whatever reason. It's well worth the wait. The set is nicely packaged, and includes a 6-page insert of liner notes by David Gans. The 3-CD version goes for $24.99, or one can opt for a digital download at $14.99. You can find further info here: jerrygarcia.shop.musictoday.com. The good folks at jerrygarcia.com are aiming to release four to six shows a year as part of the GarciaLive series. We eagerly await Volume 2.
Full track listing:
Disc 1
Early show
Sugaree
Catfish John
How Sweet It Is
Simple Twist of Fate
Disc 2
Sitting in Limbo
That's All Right
Deal (early show encore)
Late Show
Mission in the Rain
That's What Love Will Make You Do
Disc 3
Russian Lullaby
The Harder They Come
Tiger Rose (w/ Robert Hunter)
Promontory Rider (w/ Robert Hunter)
Midnight Moonlight
Dear Prudence (late show encore)