GAYNGS Announce US 2011 Spring Tour
GAYNGS will be kicking off their 2011 U.S. Tour in Minneapolis, MN. A bunch of the twenty-plus contributors on the Relayted album will be there, including Justin Vernon and Mike Noyce of Bon Iver, ringleader Ryan Olson, Zak Coulter and Adam Hurlburt of Solid Gold. Jake Luck of Leisure Birds, Ivan Rosebud of The Rosebuds, Brad Cook and Joe Westerlund of Megafaun, and Mike Lewis of Andrew Bird and Happy Apple will all be there too!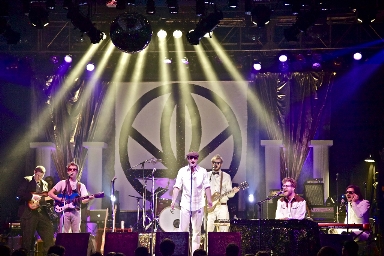 GANYGS have been garnering a wide variety of critical acclaim ranging from the New York Times to the BBC.  Most recently they were named in Stereogum's prestigious top 40 Best New Bands Of 2010 . They have also been included in a number of Best of 2010 lists; being named #13 on NME's Top 50, #22 on The Guardians Top 40, #11 onThe Quietus' Top 40, and #25 on Uncut Magazine's Top 50.
After SXSW, GAYNGS will be heading west to play a handful of west coast dates, including the prestigious Coachella Music & Arts Festival and Sasquatch Music Festival. Don't miss this one of a kind band!!
--
US DATES:
03/06/11 - First Avenue - Minneapolis, MN
03/11/11 - Stubb's BBQ - Austin, Texas
03/13/11 - 35 Conferette Festival - Denton, Texas
03/17/11 - Mohawk/ SXSW - Austin Texas
03/18/11 - Lustre Pearle/ Dickies Party / SXSW - Austin , Texas
04/15/11-17 - Coachella Music & Arts Fest - Indio, California
05/28/11- Doug Fir Lounge - Portland, Oregon
05/29/11    Sasquatch Music Festival - Quincy, Washington
06/01/11 - The Independent- San Francisco, California
06/04/11- The Casbah - San Diego, California