Get Familiar with The New Familiars
Submitted by mike on Sat, 05/07/2011 - 01:47
Justin Fedor, Josh Daniel, Daniel Flynn, and Patrick Maholland all grew up playing music in some form or fashion and together make up The New Familiars. Together they've created a crew of thick-skinned, rowdy, determined musicians and songwriters. Multi-instrumentalist talents of Justin and Josh keeps the ever evolving sound. Willie Nelson, The Band, My Morning Jacket, and Otis Redding are named as a few of their heroes. They've shared the stage opening or closing shows with Johnny Neel (Allman Brothers), Levon Helm (The Band), Del McCoury, Emmitt-Nershi Band, and the Infamous Stringdusters. They're also happy to be in their fifth year in the festival circuit.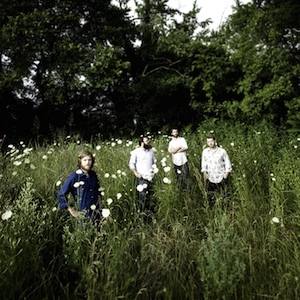 "It's American rock and roll" they'll tell you. As much as they love bluegrass, rock and roll, and country, they skirt along the edge of all three. Blossoming out of a music scene that's birthed loads of bands that blur and bend genre lines, The New Familiars happily sit in that place. Regardless, they'll keep you on your feet, and that's the important part right?
Their album Between the Moon & The Morning Light is a milestone for their career, which brought band member changes, and united the members that remained. Songs about love, luck, traveling the road, and finding one's place in the world are what will be heard on Between the Moon & The Morning Light. Recorded by Joe Kuhlmann at 34th & Hudson in Charlotte, North Carolina, and mixed by Dave Glasser at Airshow in Boulder, Colorado.
Guests like Bob Crawford (Avett Brothers),Tania Elizabeth (the Duhks, Mary Gauthier), Sam Quinn, assure a level of energy, quality, and talent that The New Familiars plan to continue to share throughout their recordings and touring.
--
Tour Dates:
May 13 – Legal Grounds – Rutherfordton, NC
May 14 – NC Music and Beer Festival – Huntersville, NC
May 14 – Artisphere – Greenville, SC
May 20 – The Quarter – Gulfport, MS
May 28 – Jammin At Hippie Jacks – Crawford, TN
June 17 – Downtown After Five – Asheville, NC
July 4 – National Whitewater Center – Charlotte, NC
September 23 – Jammin At Hippie Jacks – Crawford, TN