Ghostland Observatory: Watch Out!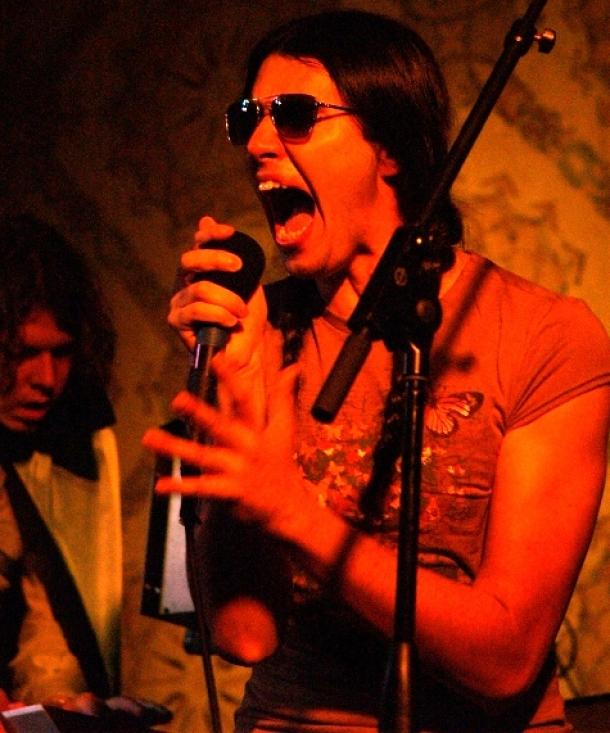 I want to start by saying that this band is a must see adventure. Make no mistake about it; this is one of the unique and fun acts that I've seen since Hurra Torpedo last summer. It is really hard to compare this incredible duo from Austin, Texas to anyone, but try to imagine putting Beck, Mars Volta, Daft Punk, Freddie Mercury and Napoleon Dynamite in a musical blender, while leaving all your inhibitions at the door and dancing your tail off for a few hours. This was the coolest dance party that I have been to in a long time. On their myspace page it says that they sound like "a robot making love to a tree," and for some odd reason that is really well put. I loved this show! Front man Aaron Behrens is electrifying. He has a background in dance and uses it to entice the crowd making it difficult to dance instead of watch. Behrens wears long black braids and tight jeans with a tight feminine shirt that gives him an androgynous look that mystifies the crowd. At the same time, across the stage is Thomas Turner a goofy looking genius with a long white cape that resembles Underdog behind a synthesizer laying some of the sickest beats that I've ever heard. After being in several bands, some together and some separate, this amazing duo decided that all they need is each other.
There newest album called Paparazzi Lightning is excellent, but experiencing their live performance is essential. They played "Sad Sad City" and "Stranger Lover" from this disc, and the crowd could not stop moving. I was there with a really large birthday party crowd that mostly never heard of Ghostland Observatory, and everyone danced the night away. If you're a single male, you'll also be pleased to know that the ratio of girls to guys at the show was about 5:1. Take my word on it, whether it be at a festival or in a small venue nearby, do not miss the chance to see this band as soon as possible. Also, there is an awesome video clip of this show done by Jake Krolick on youtube. Watch it here or type in Ghostland Observatory North Star Bar in the search option. It's only a glimpse of the party, but you'll see what's so special about these guys.