Girl In A Coma's "As The World Falls Down"
Submitted by mike on Tue, 09/21/2010 - 04:51
The San Antonio-based trio, Girl In A Coma, were chosen by Joan Jett herself for her Blackheart Records label and have toured extensively with Morrissey, at the personal invitation of the man who penned the song that inspired their name.  After successfully releasing a series of three Adventures in Coverland EPs on 7-inch vinyl this April, Girl in a Coma will release these tracks as a full-length CD along with three brand new tracks October 19th on Blackheart Records.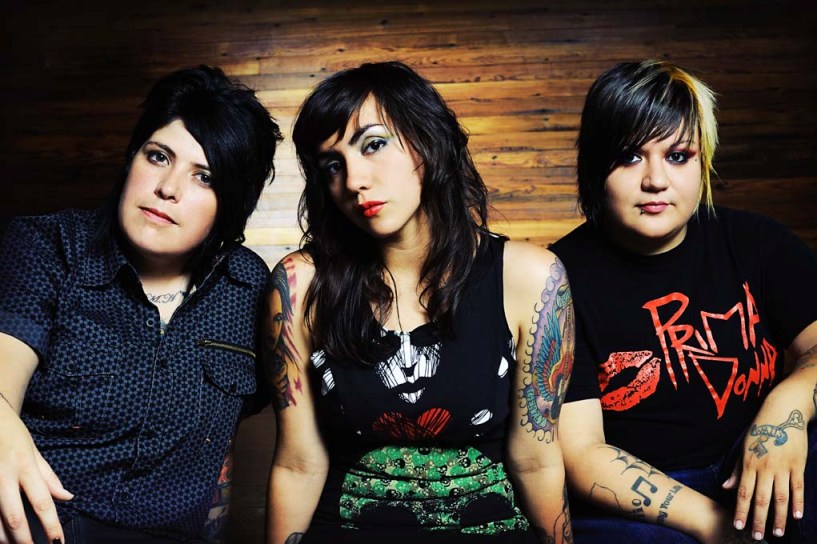 Girl In A Coma is thrilled to share a new video, directed by Robert Rodriguez for their cover of David Bowie's"As The World Falls Down".  Check out the video on SPIN.com where it premiered or here.
With Adventures in Coverland, Girl in a Coma delve further into the band's collective musical history, recording their own versions of classic songs that helped shape the sonic core of Trio B.C., a record which prompted Alternative Press Magazine to rave that the band had "really hit their stride" and Billboard to enthuse that the ladies were "full of swagger and in fine form."
The new songs on the record include a vibrant update of Buffalo Springfield's '60s protest anthem "For What It's Worth," an acoustic version of their song "BB" and a new original Girl in a Coma song, "Yo Oigo," which was written to be featured in Robert Rodriguez's new movie "Machete." The band displays their reverence for Selena's music with their amped-up reworking of "Si Una Vez," a stunning highlight of the record, and were honored to perform the song  at the 2010 Tejano Music Awards.
Having toured in the past with Morrissey, Sia, Pogues, Cyndi Lauper and more, Girl In A Coma hit the road this Fall wrapping up the tour with several performances with the Dresden Dolls.  Be sure to catch the band taking over the stage live in a city near you.
Girl In A Coma Tour Dates
09/23: El Paso, TX @ House of Rock
09/24: Marfa, TX @ El Cosmico Gathering
09/29: Atlanta, GA @ The Masquerade
09/30: Charlotte, NC @ The Casbah @ Tremont Hall
10/02: Brooklyn, NY @ Music Hall of Williamsburg
10/03: Washington, DC @ Black Cat
10/04: Newark, DE  @ Mojo Main
10/05: Providence, RI @ Club Hell
10/08: Toledo, OH @ Frankie's
10/09: Newport, KY @ Southgate House
10/11: Hot Springs, AR @ Maxine's
10/23: Helotes, TX @ Josabi's
10/30: Houston, TX @ Tom Bass Park Amphitheatre
11/05: Asbury Park, NJ @ The Wonder Bar
11/19: Dallas, TX @ Granada Theater (w/ The Dresden Dolls)
11/20: Houston, TX @ Fitzgerald's (w/ The Dresden Dolls)
11/21: Austin, TX @ La Zona Rosa (w/ The Dresden Dolls)
--

Track List
"Si Una Vez" (orig. by Selena)
"While My Guitar Gently Weeps" (orig. by The Beatles)
"Transmission" (orig. by Joy Division)
"As The World Falls Down" (orig. by David Bowie)
"Come On, Let's Go" (orig. by Ritchie Valens)
"Walkin' After Midnight" (orig. by Patsy Cline)
"Femme Fatale" (orig. by The Velvet Underground)

PLUS THREE BRAND NEW TRACKS
"For What It's Worth" (orig. by Buffalo Springfield)
"Yo Oigo"
"BB" (acoustic version)