Girl Talk Announces Gigantic 2011 Tour!
Submitted by mike on Fri, 11/05/2010 - 22:38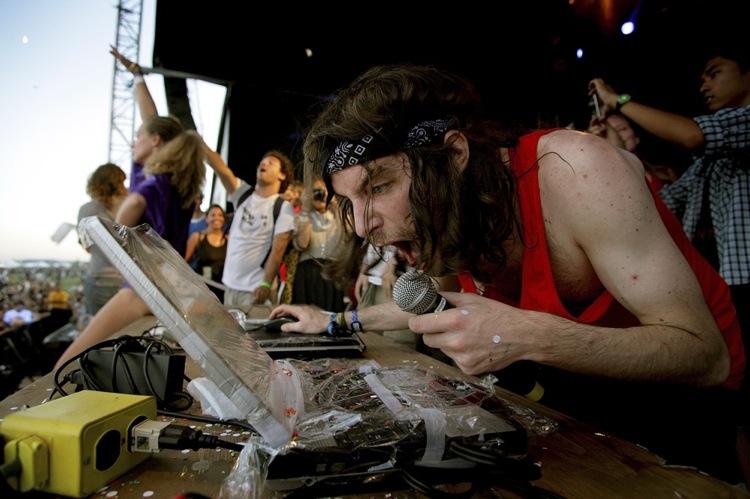 Almost 300 shows under his belt, and hardly a full week off, since Feed The Animals was released in June 2008 and Girl Talk (aka Gregg Gillis) is primed to announce another 40-city tour, all set to take place in 2011 before March is even over! Whether it be performing at the Vancouver 2010 Winter Olympics, throwing the biggest house party New Year's Eve (or anyone) has ever seen, setting off fireworks to end shows in Houston or San Francisco, or balloon drops in Chicago, New York and beyond, celebrating election night in Milwaukee, playing to colleges of all sizes, christening Pittsburgh's new Stage AE venue, or stealing the show at festivals across the globe, Gillis has proved he works (and sweats) his ass off, and knows how to give people an exceptionally awesome time. Now, with this forthcoming tour on the horizon, he's ready to multiply the fun with a whole new slew of ideas, and start 2011 off right!
--
Catch Girl Talk on tour:
Fri. 11/12/10 – Omaha, NE @ Sokol Auditorium
Fri. 11/19/10 – Buenos Aires, Argentina @ Hot Festival
Sat. 11/20/10 – Sao Paulo, Brasil @ Planeta Terra Festival
Fri. 12/3/10 – Pittsburgh, PA @ Stage AE
Sat. 12/4/10 – Pittsburgh, PA @ Stage AE
Wed. 01/05/11 – Cleveland, OH @ House of Blues
Thu. 01/06/11 – Columbus, OH @ LC Pavillion
Fri. 01/07/11 – Covington, KY @ Madison Theater
Sat. 01/08/11 – Louisville, KY @ Expo Five
Mon. 01/10/11 – New Orleans, LA @ House of Blues
Thu. 01/13/11 – Houston, TX @ House of Blues
Fri. 01/14/11 – Austin, TX @ Austin Music Hall
Sat. 01/15/11 – Dallas, TX @ Palladium
Mon. 01/17/11 – Memphis, TN @ Minglewood Hall
Tue. 01/18/11 – St. Louis, MO @ The Pageant
Thu. 01/20/11 – Birmingham, AL @ Workplay
Fri. 01/21/11 – Atlanta, GA @ Tabernacle
Sat. 01/22/11 – Charleston, SC @ Gaillard Municipal Auditorium
Mon. 01/24/11 – Knoxville, TN @ Valarium
Tue. 01/25/11 – Charlotte, NC @ The Fillmore
Thu. 01/27/11 – Raleigh, NC @ Disco Rodeo
Fri. 01/28/11 – Norfolk, VA @ NorVa
Sat. 01/29/11 – Richmond, VA @ The National
Mon. 01/31/11 – Baltimore, MD @ Ram's Head
Tue. 02/01/11 – Washington, D.C. @ 9:30 Club
Fri. 02/04/11 – Philadelphia, PA @ Electric Factory
Sat. 02/05/11 – Montclair, NJ @ Wellmont Theatre
Thu. 02/24/11 – New York, NY @ Terminal 5
Fri. 02/25/11 – Providence, RI @ Lupo's
Sat. 02/26/11 – Boston, MA @ House of Blues
Mon. 02/28/11 – Portland, ME @ State Theater
Mon. 03/01/11 – Montreal, QC @ Metropolis
Thu. 03/03/11 – Royal Oak, MI @ Royal Oak Music Hall
Fri. 03/04/11 – Chicago, IL @ Congress
Mon. 03/07/11 – Madison, WI @ Orpheum
Tue. 03/08/11 – Minneapolis, MN @ First Ave
Fri. 03/11/11 – Denver, CO @ Ogden Theatre
Mon. 03/14/11 – Missoula, MT @ Wilma Theater
Tue. 03/15/11 – Seattle, WA @ Showbox
Thu. 03/17/11 – Portland, OR @ Roseland
Fri. 03/18/11 – Oakland, CA @ Fox Theater
Sat. 03/19/11 – Pomona, CA @ Fox Theatre
Mon. 03/21/10 – Los Angeles, CA @ Palladium
Tue. 03/22/10 – San Diego, CA @ SOMA
Wed. 03/23/10 – Tempe, AX @ Marquee