Girls Guns and Glory release 'Sweet Nothings' on 8/30
Submitted by mike on Fri, 07/01/2011 - 23:22
Boston based Girls Guns and Glory will release Sweet Nothings on August 30, 2011 on Lonesome Day Records. A brainchild of frontman on acoustic guitar and vocals Ward Hayden, Girls Guns and Glory consists of Chris Hersch on electric guitar, Michael Calabrese (also of Lake Street Dive) on drums/vocals, and Paul Zaz Dilley on upright/electric bass. It is a reconnection to the roots of rock and roll for which he exhumed influences of the past including Johnny Cash, Hank Williams, Everly Brothers, Roy Orbison, Buddy Holly, and Little Richard.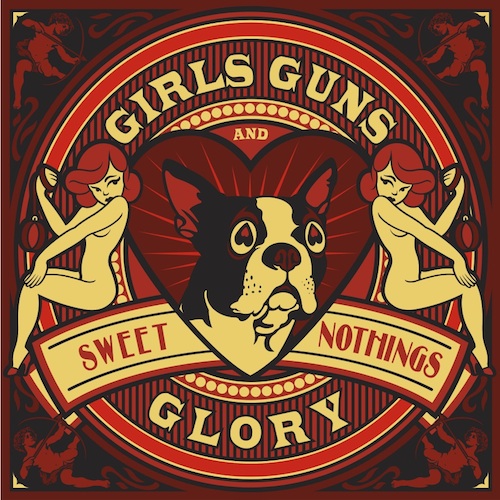 Sweet Nothings was produced by Paul Q. Kolderie (Pixies, Radiohead, Warren Zevon, Uncle Tupelo) and Adam Taylor (Sarah Borges, Portugal the Man) and was the last project recorded at Boston's Camp Street Studios in Cambridge, Massachusetts. Sweet Nothings has songs both quick and catchy about the simple pleasures in life and slow and sentimental about—what else?—getting your heart ripped out, chewed up, spit out, and pieced back together. Also, listen for Sarah Borges (Sarah Borges & the Broken Singles) as she lends her voice to the Hayden-penned duet "1,000 Times."
Girls Guns and Glory are a proficiently trained group: Chris Hersch and Michael Calabrese went to the New England Conservatory of Music and Paul Dilley attended Berklee College of Music. With the demands of a heavy-touring lifestyle, this is a group that cut its teeth on the road, and their resulting chemistry on stage is enjoyably electric. Hayden is quick to mention that, not only do these guys play their focal instruments with mastery, appreciation, and—on occasion—spirited abandon, each one of them is a multi-instrumentalist.
Hayden's original compositions conjure the palpable ache of a crushed heart; they touch on themes of love lost and hope found, and their words alone could be published in anthologies of poetry. Girls Guns and Glory is now an internationally touring band, named Independent Artist of the Year at the French Country Music Awards, and two-time winner of both the Roots Act of Year (Boston Phoenix Awards) and Americana Act of the Year (Boston Music Awards). Girls Guns and Glory is also the only band of its genre to ever take home the top honors of Act of the Year (Boston Music Awards) and to win the legendary WBCN Rock 'n' Roll Rumble. For more information, tour dates, media materials, click the link below.
-
ON TOUR:
June 30 - OIT Summer Music Series - Kiamath Falls, OR
July 1 - The Underground w/ Moondog Matinee - Reno, NV
July 2 - Snowbird Cool Air Concert Series - Snowbird, UT
July 4 - West Yellowstone Comm. Concert Series - West Yellowstone, MT
July 6 - Sol Vista Basin - Granby, CO
July 7 - Walnut Room - Denver, CO
July 8 - Winter Park Pub - Winter Park, CO
July 9 - 320 South - Breckenridge, CO
July 10 - Front Range Barbecue - Colorado Springs, CO
July 12 - Kinetic Playground (w/ Sexfist) - Chicago, IL
July 13 - Grand Rapids Roadhouse - Grand Rapids, OH
July 14 - Beachland Concert Series - Cleveland, OH
July 15 - Toby Hill Bar & Grill - Clarion, PA
July 16 - West Pomfret Music in the Garden - Carlisle, PA - 4PM
July 16 - Harry's Grille - Bloomsburg, PA - 10PM
July 22 - The Tinker's Son - Norwell, MA
July 23 - Toby Keith's - Foxboro, MA
July 28 - Putnam Den Hoe Down - Saratoga Springs, NY
July 29 - Lizard Lounge - Cambridge, MA **Boston CD Release Night 1
July 30 - Lizard Lounge - Cambridge, MA **Boston CD Release Night 2
August 12 - Majestic Theater - Springfield, MA
August 21 - The Governor's Inn Concert Series - Rochester, NH
August 27 - Javelina Festival - Rehoboth, MA
September 9 - The Pressroom - Portsmouth, NH
September 10 - The Hungry Tiger - Manchester, CT
September 11 - Narrows Festival of the Arts - Fall River, MA
September 17 - Bristol Rhythm & Roots Reunion - Bristol, TN/VA
November 4 - New Holland Brewing - Holland, MI