The GrandMothers of Invention Announce 2012 Spring Tour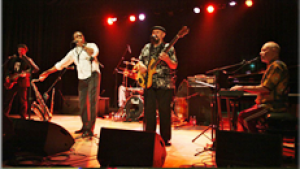 Announcing the 2012 "ROXY AND ELSEWHERE AND MORE" US Tour! Having just returned from their acclaimed EUROPEAN tour of 14 concerts in 18 days in 7 European countries, the GrandMothers of Invention embark on their premiere tour of the USA. For the first time, audiences in the United States will be witness to the incredible performances of three former member of the Mothers of Invention. Do not miss this tour, featuring pivotal musicians behind the Zappa legacy.
Musicians will include - NAPOLEON MURPHY BROCK (with the Mothers from 1974 - 1984) on vocals, tenor saxophone, flute, TOM FOWLER (with the Mothers from 1973 - 1978) on bass, CHRISTOPHER GARCIA on drums, percussion, marimba, and vocals, ROBBIE SEAHAG MANGANO on electric guitar (from May 3 thru May 15), MIROSLAV TADIC on electric guitar (from April 24 thru May 2), and featuring our very special musical guest - DON PRESTON (with the Mothers from 1966 - 1974) on piano, keyboard synthesizers, electronics, magic, and vocals!

The "ROXY AND ELSEWHERE AND MORE" USA Tour
April 24 Austin, TX Stubbs BBQ
April 26 New Orleans, LA Tipitina's French Quarter
April 27 Atlanta, GA Smith's Olde Bar
April 28 Carrboro, NC Cat's Cradle
April 30 Annapolis, MD Rams Head On Stage
May 1 Washington, DC The Hamilton
May 2 Norfolk, CT Infinity Hall
May 3/4 New York, NY Iridium Jazz Club (2 shows each night)
May 5 Wilmington, DE World Cafe Live
May 6 Pittsburgh, PA Rex Theatre
May 8 Cleveland, OH Beachland Ballroom
May 9 Detroit, MI The Magic Bag
May 10 Chicago, IL Martyrs'
May 11 Minneapolis, MN Cedar Cultural Center
May 12 Lincoln, NE Bourbon Theatre
May 13 Boulder, CO Boulder Theater
May 15 Salt Lake City, UT State Room