Grateful Dead Experience Comes Alive at UMass Amherst
Submitted by press on Tue, 09/18/2007 - 13:34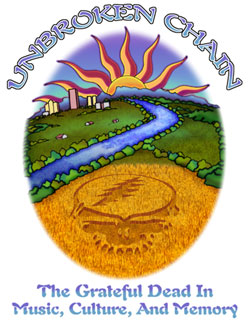 Scholars, fans, artists, performers and members of the extended Grateful Dead family will gather at the University of Massachusetts Amherst in November for the first major university conference on the enduring legacy of the Dead experience.
Unbroken Chain: The Grateful Dead in Music, Culture and Memory, being held at November 16-18 at UMass Amherst, will bring together more than 50 presenters for 20 panel sessions ranging from music composition and improvisation to an examination of the band's business model – as well as a musical performances, gallery exhibits, and presentations. Unbroken Chain is being presented in conjunction with a semester-long graduate History seminar entitled American Beauty: Music, Culture and Society, 1945-95; and an undergraduate course entitled How Does the Song Go: The Grateful Dead as a Window into American Culture.
Among the Unbroken Chain panelists are "Mountain Girl" Carolyn Garcia, first wife of guitarist Jerry Garcia and a central figure among the Merry Pranksters who populated the early Grateful Dead scene; David Gans, host of the Grateful Dead Radio Hour for the past 20 years; Grateful Dead midi wizard Bob Bralove; and Dan Healy, who designed and built the "Wall of Sound," famed enabler of the Dead's improvisational style.
Plenary addresses will include a keynote by Dennis McNally, longtime Dead publicist and author of Long Strange Trip: The Inside History of the Grateful Dead.  McNally earned a doctorate in History at UMass Amherst in 1978.
"The academic world is not as removed from so-called reality as people think, especially those in the academic world," said McNally recently. "In the rock & roll world, there are pockets of meticulous intelligence and literacy, people like Jerry Garcia and (bassist) Phil Lesh."
The event also represents an unprecedented collaborative opportunity for scholars from more than a dozen disciplines in the humanities, social sciences, engineering and business, many of whom have come to identify their work as part of the emerging area of "Dead Studies."  This kind of collaboration emphasizes academic rigor and a traditional multi-disciplinary perspective, according to University of South Carolina oral historian Nicholas Meriwether, author of All Graceful Instruments: The Contexts of the Grateful Dead Phenomenon, recently published by Cambridge Scholars Publishing.
"Ultimately," says Meriwether, "the Dead phenomenon suggests a new way of looking at yourself, of what we are capable of in a modern Western Society that appears increasingly fragmented, media-drive, manipulated and alienating. . . In an era in which academics are increasingly aware of the need to collaborate across disciplinary lines, a topic with as broad-based an appeal as the Dead phenomenon should be fascinating – and welcome."
Among the other scholars taking part are Rebecca Adams, author of Deadhead Social Science: You Ain't Gonna Learn What You Don't Wanna Know; David Dodd, editor of The Complete Annotated Grateful Dead Lyrics;  UMass English professor Nicholas Bromell, author of Tomorrow Never Knows: Rock and Psychedelics in the 60s; and UMass Professor of Comparative Literature David Lenson, author of On Drugs.
Also making rare appearances are several seminal figures in the evolution of Dead scholarship, including ethnomusicologist Fred Lieberman and psychologist and chaos theorist Stanley Krippner.
John Mullin, Dean of the UMass Amherst Graduate School – which is sponsoring the event along with the Department of History and UMass Amherst Outreach – said that Unbroken Chain can be a model for future academic-community collaborations.
"Is it possible that we'll take a hit for focusing this kind of intellectual talent on what Jerry Garcia himself called 'just a dance band?'" said Mullin.  "Perhaps, but universities like ours need to be courageous in propelling serious scholarship in new directions, and in reaching out to communities far and wide. When we are timid in academia, we miss real opportunities. We hope that The Grateful Dead is the just the beginning."
Gallery sessions and discussions will feature the work of photographers Herb Greene, Susanna Millman and Lloyd Wolf, as well as poster and album cover artists Mikio Kennedy and Mike Dubois. In addition, original prints of Jerry Garcia's artwork will be displayed and available for purchase. Among the films being screened will be Deadheads: An American Subculture and a digitally re-mastered Sunshine Daydream, an until-now unreleased documentary on the August  27, 1972 benefit concert at Ken Kesey's farm in Oregon.
The weekend will include performances by the American Beauty Project ensemble, doing the music of acclaimed Dead albums Workingman's Dead and American Beauty, and Dark Star Orchestra, whose rhythm guitarist Rob Eaton and keyboardist Rob Baracco will take part in several of the panel discussions. The Dark Star performance at the UMass Amherst Fine Arts Center on Saturday evening will feature special guests and the work of Peak Experience Productions.
A maximum of 375 registrations for Unbroken Chain: The Grateful Dead in Music, Culture and Memory are now being accepted.
v  Information on registration and accommodations is available at www.umassconnections.com/unbrokenchain . 
v  Tickets, sold separately, for performances by the American Beauty Project and Dark Star Orchestra are available at http://umafacweb.admin.umass.edu/Online .
A full program, background and additional contacts are attached, and are available at http://www.umassconnections.com/unbrokenchain.