Grateful Web Interview with Rusty Shackle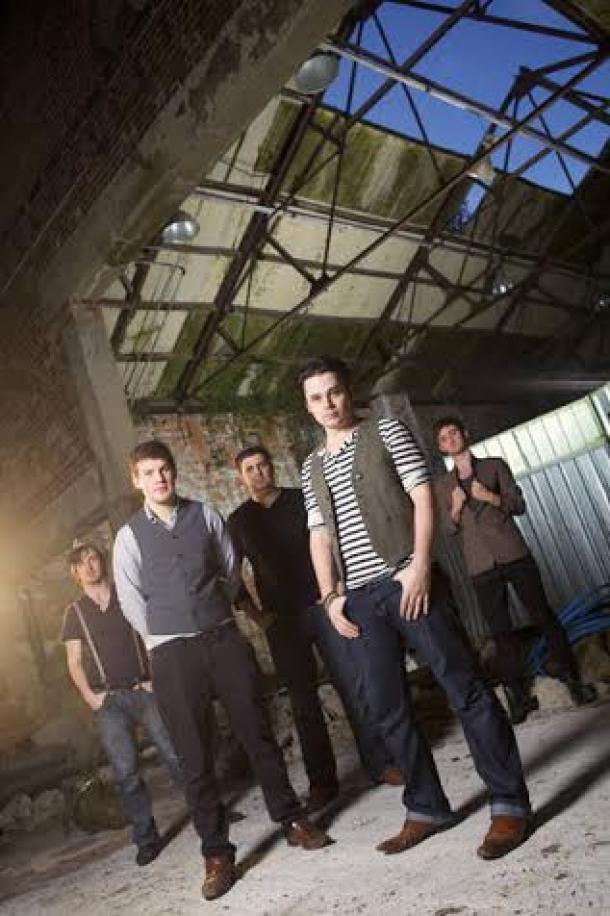 Just before Wakarusa breaks over the horizon, Grateful Web sent some questions to Wales-hailing band Rusty Shackle. A self-professed 'dirty bluegrass folk 'n' roll' band, Rusty Shackle has lots of personality and they're bringing it to their first U.S. music festival. The 6-piece band features brass instruments, strings, percussion and vocals, not to mention some really awesome covers. Ryan Williams (trumpet, bass guitar) answered the questions, and since he's not going to space anytime soon hopefully you'll get to see him at Wakarusa!
--------
GW: In an interview with Soundscape Magazine in 2013 you cited the band as a 'folk and roll band' - is that how you would answer the question today? What changes has your sound gone through since the advent of the band?
RS: Yeah we've stayed true to our own sound but still managed to develop our music and songwriting, and a lot of our old songs still make it into our sets. We're also playing more instruments live which gives us a fuller are more unique sound
GW: In the same interview, I read that you guys have played a cover of 'Wild Wild West' (which you said was a flop, but I think it sounds incredibly awesome)...are there any other unusual covers you play? Any others you've tried that flopped?
RS: Sadly the world wasn't ready for our cover of Wild Wild West. However they were more than ready for our other hip-hop/folk crossovers like "The Bad Touch" by Bloodhound Gang and "Bonkers" by Dizzee Rascal. The Hokey Cokey often makes an appearance too
GW: I noticed the band is playing a few festivals when you return to Europe - have you played many festivals in the U.S.
RS: No this will be our first time gigging in the USA and we're really looking forward to it, as festivals are really popular in the UK and we're excited to see how they compare
GW: What are you expecting from Wakarusa? 
RS: We're expecting everything we can't get in Britain: sun burn, cold beers and straight teeth. Wouldn't say no to a nice swim in Mulberry River either
GW: I love traveling and seeing various landscapes and ecosystems across the globe - where is a favorite place you have traveled?
RS: I would pass this question over to the McKeon brothers but they're currently in Morocco, which says it all I suppose. But for me, it'd have to be New York
GW: If you could play in any venue or city in the world, where would you choose?
RS: We'd love to play in New Orleans which was an inspiration to one of our songs called "King Kreole". We're also heavily influenced by Celtic folk music so it'd be great to do a tour of Ireland at some point. 
GW: What are the band members' favorite restaurants? What's the best dish?
RS: Luckily our drummer, Owen Emmanuel is an excellent chef, but when we give him a night off and have take-away, it does tend to be a curry. Or Pizza. Or Fish n Chips. Ah we just love all food!
GW: The band hails from Wales, if I read correctly, how is the music scene in Wales? 
RS: I'm proud to say the local scene is really thriving and growing fast. There's a lot of talented vocalists and songwriters emerging making it an exciting place to be a musician
GW: What's the story of how the band formed?
RS: It began as a duo with our vocalist/guitarist, Liam Collins, and our banjo/fiddle player, Scott McKeon, playing a few acoustic gigs for fun in 2010. Shortly after, the rest of the band, Owen Emmanuel (Drums), Baz Barwick (Bass/Mandola) and James McKeon (Guitar) joined and they recorded an EP, which reached number 2 in the iTunes singer/songwriter charts. They released their debut full-length album, "Wash Away These Nights" in 2012, and then during the recording process of their second album "The Bones", Ryan Williams joined on trumpet. 
GW: Why the name Rusty Shackle? Is there any significance?
RS: It might be hard to believe, but we have no idea where the name came from. I'm not even sure who came up with it! We get asked this question a lot so perhaps we should come up with a good story of how it came about
GW: When you're doing an interview, what question(s) do you wish interviewers would ask?
RS: I wish interviewers would ask what questions we wish interviewers would ask. That and questions about food
GW: If you had the chance to travel to space, but couldn't be guaranteed to come back alive...would you go?
RS: No I'd rather go to Wakarusa. I hear there's more atmosphere *cringe*
GW: And lastly, is there anything you'd like to say to Grateful Web readers?
RS: We're looking forward to bringing our country's music to you, and hope we can see you at Wakarusa or any of our other gigs. To see our full gigs list, visit our Facebook or search for us on YouTube to hear our music.