Grayson Capps Summer Tour Dates + MP3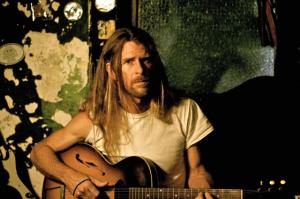 Grayson Capps has announced a number of tour dates both in the U.S. and Europe this summer. The Mobile, Alabama-based singer/songwriter is known for sticking closely to his stomping grounds in the Gulf Coast, but the coming months will find him on the road for shows from Tennessee through New York City, as well as a return to Europe, including appearances at the Maverick Festival in Great Britain and the Paradiso in Holland supporting Dr. John.
In advance of the tour, Grayson Capps is giving away an mp3 of "The Battle Is Over (But The War Goes On)," his take on the legendary protest song that was recorded, but never released, during the sessions for his latest album, The Lost Cause Minstrels. The track can be downloaded here. The 11-song studio release, featuring stand-outs like "Highway 42," "Chief Seattle," and "Coconut Moonshine," led Sound + Vision Magazine to declare: "With The Lost Cause Minstrels, Capps joins the Drive-By Truckers on the short list of artists who can tell a serious story while evoking the thrills of vintage Southern rock." Blogcritics.com offered the following praise: "Simply put this is some of the best rock and roll in its purest form you'll have heard in a long time. Intelligent without being pretentious and emotional without being sentimental, Grayson Capps is one of the best damn songwriters around today, and The Lost Cause Minstrels is his best recording to date."
Upcoming tour dates are:
May 18 | Outer Hang Festival at The Undertow | Orange Beach, AL
May 22 | The Melting Point | Athens, GA
May 23 | Rhythm & Brews | Chattanooga, TN
May 24 | The Basement | Nashville, TN
May 25 | Jammin' At Hippie Jack's | Crawford, TN
May 26 | Hideaway Saloon | Louisville, KY
May 27 | The Purple Fiddle | Thomas, WV
May 29 | Hill Country BBQ | Washington, DC
May 31 | The Rock Shop | Brooklyn, NY #
June 1 | Michael Arnone's Crawfish Festival | Augusta, NJ
June 5 | Eagleview Concerts In The Square | Exton, PA ^
June 14 | Rosie's Record Bar | Daphne, AL
June 22 | Bloodhound | Auburn, AL
June 30 | Maverick Festival | Suffolk, UK
July 2 | Paradiso | Amsterdam, Holland *
July 4 | House Concert | Boxtel, Holland
July 5 | House Concert | Liempde, Holland
July 6 | Peticantus | Hoorn, Holland
July 7 | Cafe de Rat | Utrecht, Holland
July 8 | Cafe t Keerpunt | Spijkerboor, Holland
July 11-15 | Germany & Italy TBA
August 3 | Woodwalk Gallery | Egg Harbor, WI
August 5 | Foundry Hall | South Haven, MI
August 25 | The Hangout | Gulf Shores, AL *
September 7 | Blue Canoe | Tupelo, MS
September 8 | Doc's | Evansville, IN
September 9 | Knucklehead's | Kansas City, MO
September 14 & 15 | Lumberjack Saloon | Lolo, MT
^ w/ Larkin Poe
* w/ Dr. John
# w/ Daniel Wayne