Greensky Bluegrass CD Release
Submitted by mike on Tue, 12/21/2010 - 04:02
The music that Greensky Bluegrass performs can best be described as a breath of fresh air, relaxing, invigorating and a welcomed change from the current climate.  The Kalamazoo, MI based quintet uses traditional bluegrass instruments – dobro, banjo, guitar, upright bass and mandolin – to create original songs that are unique, yet familiar and cover songs unconventional to their roots (The Beatles, Pink Floyd, Bob Dylan).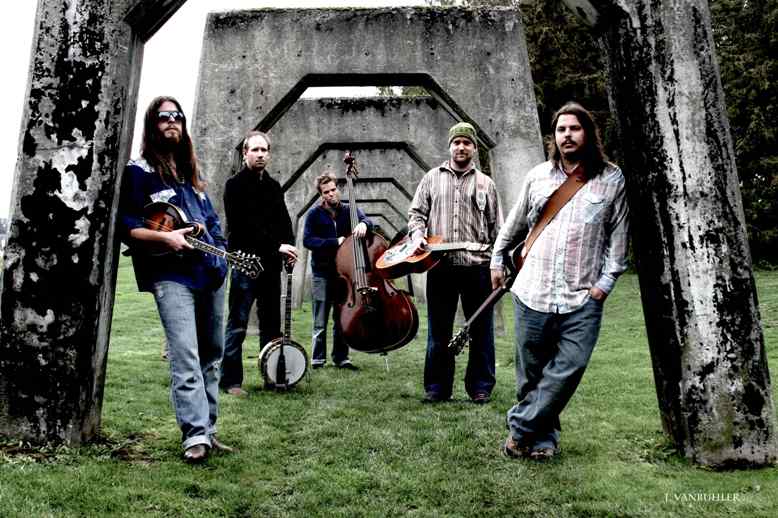 The Midwestern boys had an incredible 2010, touring nationally, performing alongside Mickey Hart and Bill Kreutzmann of the Grateful Dead and featured at the Rockygrass Festival in Lyons, CO, on the main stage at the Grey Fox Festival in upstate New York and in front of an audience of thousands at the All Good Festival in West Virginia. Additionally, the quintet delighted campers at the All Good Festival by performing a surprise midnight to sunrise 'Guerilla Grass' jam session that was captured by CNN and featured here.
Greensky Bluegrass has quickly become one of the most exciting touring acts on the road today, performing their trademark sound nationwide at over 160 spirited shows a year. This energy is captured perfectly on their live double-CD releases, All Access: Volume One and Volume Two. All Access is a series of recordings of select shows from the road, Volume One was released and subsequently sold-out in 2010 and Volume Two was released later in that same year.  Each installment offers nearly 30 songs, originals and covers.
Since winning the 2006 Telluride Bluegrass Festival Band Contest, Greensky has been touring constantly and all the hard work is certainly paying off. Recent highlights are too many to list, but include selling out venues in many parts of the country, sharing the stage with musical heroes, getting asked to play shows with the likes of Tony Rice and Peter Rowan, Sam Bush, Yonder Mountain String Band and Railroad Earth. Greensky Bluegrass is Anders Beck (dobro), Michael Arlen Bont (banjo), Dave Bruzza (guitar), Mike Devol (upright bass) and Paul Hoffman (mandolin).
Check out Greensky Bluegrass at Sullivan Hall in NYC on February 10th.
--

Union Street Preservation Society:
USPS is a collective that is a link in the lineage of folk and blues musicians such as Robert Johnson, Duane Allman, Steve Earl, Bob Dylan and Bonnie Raitt. Our goal is to educate people through music and by talking about the history of the music. This generation is spiritual bankrupt (and increasingly financially so) and in need of something authentic. We seek to provide that communal experience. Join in on the project, sing along, learn some history and contribute any way you can. The society is always accepting new, honorary members who are willing to delve deeper into the music, both intellectually and spiritually and physically.