Greensky Bluegrass Delivers The 1980s in San Francisco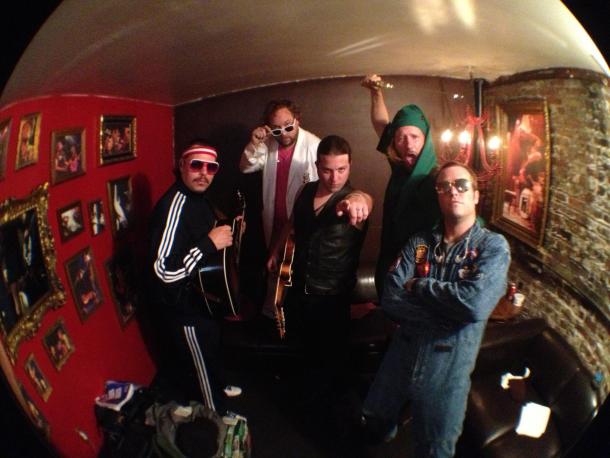 Celebrating Halloween San Francisco style, and for the second year in a row, Greensky Bluegrass visited one of the century's most musically rich decades: the 1980s.
The band performed to a sold out crowd at The Independent offering spirited takes on over 20 different songs from the Golden 80s.
A matrix audio recording from their 1st annual 80's Halloween Party can be streamed online.
--
Set One:
Money For Nothing (Dire Straits)
Maneater (Hall and Oates)
Still Rock and Roll To Me (Billy Joel)
The Power of Love (Huey Lewis)
When Doves Cry (Prince)
With Or Without You (U2)>
Where The Streets Have No Names (U2)
I Ran (So Far Away) (A Flock of Seagulls)           
Halloween Breakdown (A. Beck)>
Free Fallin' (Tom Petty) >
Dancin' In The Dark (Bruce Springsteen)
Set Two:
Beat It (Michael Jackson)
Atlantic City (Bruce Springsteen)
Rio (Duran Duran)
On The Road Again (Willie Nelson)
Hungry Like A Wolf (Duran Duran)
Just Like Heaven (The Cure)
Driven To Tears (The Police)
You Can Call Me Al (Paul Simon)
Could You Be Loved (Bob Marley)
Encore:
Don't Lie (A. Beck, P. Hoffman)
The band wraps up their West Coast tour at The Mint in Los Angeles 11/2 and Winston's in San Diego 11/3 this week. Greensky heads home where a two-night Thanksgiving stand in Kalamazoo previews a brief Midwest tour culminating in New Year's Eve in Detroit  at the Majestic Theater. Early 2013 plans include a Southeast tour in SC, FL, GA and NC leading up to and back to Michigan from the band's 2nd Jam Cruise.  A video from Jam Cruise 9 of Greensky Bluegrass performing with special guest Steve Kimock.