Greensky Bluegrass Featured on CNN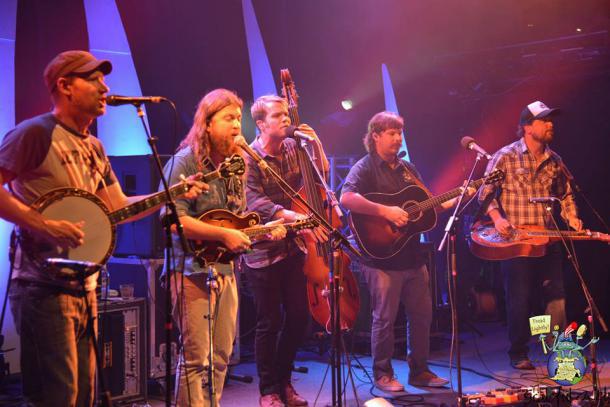 Greensky Bluegrass has had an incredible summer so far.  The Kalamazoo, MI-based 'newgrass' quintet tours nationally and were recently featured at the Rockygrass Festival in Lyons, CO, on the main stage at the legendary Grey Fox Festival in upstate New York and performed in front of an audience of thousands at the All Good Festival in West Virginia. The quintet delighted campers at the All Good Festival by performing a surprise midnight to sunrise 'Guerilla Grass' jam session that was captured by CNN and featured here.
Greensky Bluegrass has quickly become one of the most exciting touring acts on the road today performing their trademark sound nationwide at over 160 spirited shows a year to critical acclaim. This energy is captured perfectly on their new double live release, All Access: Volume One, the first in a series of recordings of select shows from the road.  With dates lining up for a fall tour across the West, Midwest, Mid-Atlantic, South and Southwest, the future for Greensky Bluegrass is sure to be bright.
Greensky Bluegrass Fall Tour Dates:
August 21 – Hoxeyville Music Festival – Hoxeyville, MI
August 26 - Tres Hombres - Carbondale, IL
August 27 - Lindberg's - Springfield, MO
August 28 - River Jam Festival - Fort Smith, AR
September 1 - three20south - Breckenridge, CO
September 2 - Hodi's Half Note - Fort Collins, CO
September 3 - Ghost Ranch - Steamboat Springs, CO
September 4 - Agave - Avon, CO
September 5 - Electric Avenue Festival - Denver, CO
September 17 - Recipe Family Cookout - Terra Alta, WV
September 18 - RiverGrass - Ironton, OH
September 20 - Clementine Café - Harrisonburg, VA
September 21 - Canal Club - Richmond, VA
September 22 - Double Door Inn - Charlotte, NC
September 23 - Berkeley Cafe - Raleigh, NC
September 24 - Mellow Mushroom - Asheville, NC
September 25 – The Pour House - Charleston, SC
September 26 - Smith's Olde Bar - Atlanta, GA
October 13 - Fox Theater - Boulder, CO
October 14 - Belly Up - Aspen, CO
October 15 - The Eldo - Crested Butte, CO
October 16 - Abbey Theatre - Durango, CO
October 19 - Orpheum Theater - Flagstaff, AZ
October 20 - The Compound Grill - Phoenix, AZ
October 21 – Winston's - San Diego, CA
October 23 - Boom Boom Room - San Francisco, CA
October 26 - Red Fox Tavern - Eureka, CA
October 28 - Applegate River Lodge - Applegate, OR
October 29 - Mt. Tabor Theater - Portland, OR
October 30 - Mt. Tabor Theater - Portland, OR
October 31 - The Tractor - Seattle, WA
November 6 - High Noon Saloon - Madison, WI
January 4 – 9 – Jam Cruise – The Caribbean