Greg Attonito Announces Upcoming Fan Time Live! Interview and Acoustic Performance
Submitted by mike on Fri, 06/24/2011 - 18:19
In support of his upcoming debut solo album "Natural Disaster," Bouncing Souls frontman Greg Attonito has announced he will be taking part in an upcoming addition of UStream's Fan Time Live! on Sunday, July 10th.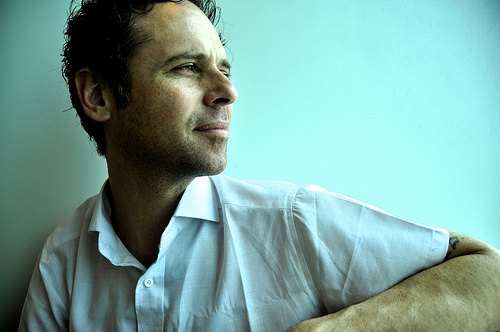 Attonito will be joining Fan Time Live! for a second time around on July 10th, 2011 from 8pm - 9pm EST but this time will be premiering his new solo debut "Natural Disaster," which is being released by Chunksaah Records on July 12th, 2011. Greg will be doing live chat and q&a with fans and will also be doing an acoustic performance of "Natural Disaster." The live-stream event can be viewed here.

-
Greg Attonito Live!
GREGORY ATTONITO "Natural Disaster" Record Release Party. Tuesday, July 12th at 7:30pm at Watermark
(Boardwalk at First St., Asbury Park,NJ). All Ages Show. Five dollars to get in. Buy a record at the door and get in for free!
-
The Bouncing Souls Live
06.22.11 - Cambridge, MA - Middle East
06.23.11 - Cambridge, MA - Middle East
06.24.11 - Cambridge, MA - Middle East
06.25.11 - Cambridge, MA - Middle East
07.06.11 - New York, NY - Highline Ballroom
07.07.11 - New York, NY - Highline Ballroom
07.08.11 - New York, NY - Highline Ballroom
07.09.11 - New York, NY - Highline Ballroom
07.13.11 - Philadelphia, PA - First Unitarian Church
07.14.11 - Philadelphia, PA - First Unitarian Church
07.15.11 - Philadelphia, PA - First Unitarian Church
07.16.11 - Philadelphia, PA - First Unitarian Church
29.07.11 - ESP, Viveiro - Resurrection Fest
30.07.11 - D, Bausendorf - Riez Open Air
01.08.11 - UK, London - O2 Academy Islington
02.08.11 - UK, London - O2 Academy Islington
03.08.11 - UK, London - O2 Academy Islington
04.08.11 - UK, London - O2 Academy Islington
05.08.11 - UK, Blackpool - Rebellion Festival
06.08.11 - UK, Kent - Heavy Fest
08.08.11 - D, Stuttgart - Universum
09.08.11 - A, Vienna - Arena Club
10.08.11 - A, Vienna - Arena Club
11.08.11 - A, Vienna - Arena Club
12.08.11 - A, Vienna - Arena Club
13.08.11 - SLO, Tolmin - Punk Rock Holiday 1.1
14.08.11 - CRO, Zadar - Trg Pet Bunara
16.08.11 - HU, Budapest - Durer Kert
17.08.11 - PL, Katowice - Klub Studencki Arkada
19.08.11 - BE, Hasselt Kiewit - Pukkelpop Festival
20.08.11 - D, Borkenberge - Area 4 Festival
21.08.11 - D, Grossposna - Highfield Festival
22.08.11 - SWE, Malmo - Malmoestivalen
11.02.11 - Denver, CO - Marquis Theater
11.03.11 - Denver, CO - Marquis Theater
11.04.11 - Denver, CO - Marquis Theater
11.05.11 - Denver, CO - Marquis Theater
11.09.11 - Los Angeles, CA - Troubadour
11.10.11 - Los Angeles, CA - Troubadour
11.11.11 - Los Angeles, CA - Troubadour 11.12.11 - Los Angeles, CA - Troubadour