Groove Armada announces Tour Dates
Submitted by mike on Wed, 02/17/2010 - 01:12
Andy Cato and Tom Findlay, better known as Groove Armada, have announced a spring U.S. tour in support of Black Light, their sixth studio album releasing March 2 on Om Records. The tour will find them dropping by the U.S. for multiple dates in New York, California, and Florida, including appearances on Morning Becomes Electric and at the Ultra Music Festival in Miami. The highly anticipated Black Light sees the duo stepping in bold new directions and featuring an impressive list of guest artists, including silky smooth guest vocals from Roxy Music's Bryan Ferry on the single "Shameless," vocal turns from Kate Bush-evoking chanteuse SaintSaviour, and appearances on several tracks from Nick Littlemore of the Aussie electronic sensation Empire of the Sun.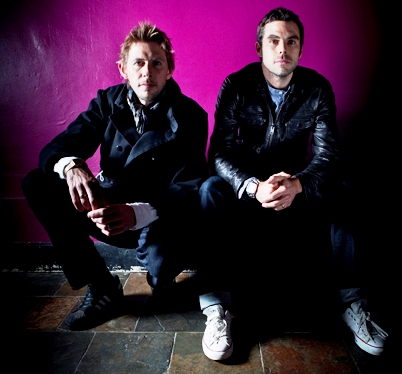 Prolific remixer Classixx has produced a light and playful remix of Black Light highlight "Paper Romance," replacing the hard four-to-the-floor of the original track with bubbling synths, softly skittering drums, and delicate, swooning guitars that bring out the passionate vocal takes from SaintSavior and Fenech-Soler.  Download the remix here, and feel free to post and share!  In addition to Classixx, several tracks from the album have already been remixed by other such luminaries as Mock & Toof, Bloody Beetroots, and more, all currently available on iTunes. Keep an eye out for a remix from the always fun Dan Deacon!
In case you missed them the first time around, don't forget to catch the videos for singles I Won't Kneel, and Paper Romance here!  Don't miss your chance to see this legendary duo live when they stop by the U.S. this spring!
-
Groove Armada 2010 U.S. TOUR DATES:
03/18: San Francisco, CA @ The Fillmore
03/19: San Francisco, CA @ The Fillmore
03/20: San Bernardino, CA @ NOS Events Center  (DJ Set)
03/21: Los Angeles, CA @ Henry Fonda Theatre
03/22: Los Angeles, CA @ KCRW Morning Becomes Eclectic
03/24: New York, NY @ Webster Hall
03/26: Miami, FL @ Ultra Music Festival