Guitarist Mike Keneally + Drummer Marco Minnemann = Evidence of Humanity
Submitted by mike on Tue, 09/21/2010 - 04:01
One bright morning, world-renowned drummer Marco Minnemann (Eddie Jobson's UZ, Nina Hagen, Necrophagist, Paul Gilbert, David Torn and countless others) settled down behind the DW kit in his secluded hideaway, punched the record button, and proceeded to pound out an astounding 52-minute improvised solo. When it was finished, he christened it Normalizer 2 and offered it as a sort of gift to a handful of his favorite guitarists, hoping that they would each add their own signature madness to the mix.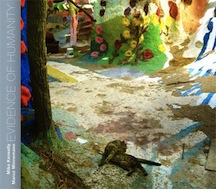 Multi-instrumentalist Mike Keneally (Frank Zappa, Steve Vai, Dethklok, Joe Satriani and, again, countless others) was someone Marco hoped would dig the idea. In the throes of recording his intense and complex Scambot 1 album (released last year on Exowax), Mike leapt at Marco's offer-- the creation of Evidence of Humanity would be a joyous, freewheeling counterpoint to his meticulous work on Scambot. "A fun ride," Mike would recall.
Frequently, while recording his parts, Mike would respond improvisationally to a section of Marco's drum solo, recording a melodic statement on guitar, keyboard or bass, and then overdubbing orchestrational support to the original improvised part. On other sections, Mike would compose movement strenuously in unison with Marco's initial improvised outburst.
The ecstatic result is something like two of the world's foremost musicians improvising together, but not at the same time. It's a record unlike any other that Mike has recorded (but probably closest to Nonkertompf, his indefinable, mostly instrumental 1999 solo extravaganza). Evidence of Humanity seems to have a life of its own, mutating and maturing with each listen.
Accompanying the Evidence of Humanity CD is a DVD, containing a tasty reimagining of the original concept. This time, Mike and Marco got together in real time and vaulted into the ether for another 52-minute musical improvisation, a feat that was videotaped for your pleasure and entitled Elements Of A Manatee. The DVD also includes an insightful conversation between the two kindred musical spirits, shot in the back seat of a car hurtling toward the Southern California desert's dilapidated Salton Sea.