Guster To Release EP & Tour w/ Jack Mannequin
Submitted by mike on Mon, 06/27/2011 - 23:43
Just in time for their upcoming summer tour with
Jack's Mannequin
, iconic alt-pop outfit
Guster
will be releasing a 6 song EP titled
On The Ocean
on August 2nd. In addition to previously unreleased tracks, On The Ocean will also feature acoustic versions and a remix of a few songs that will be familiar to
Guster
fans. The EP will be available from your traditional digital outlets, but in keeping with the band's progressive nature physical copies of the album will only be available at independent retailers and at the shows themselves.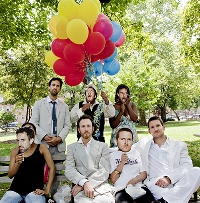 Guster
has been growing their cult-like fanbase for over 15 years now, and as evident by their latest album
Easy Wonderful
, they are only getting better. The band feels the release of
Easy Wonderful
marked a turning point in their career, and believe they have emerged from the process as "stronger players, writers and record makers".
Below is a list of the tour dates for
Guster's
summer run with
Jack's Mannequin
. Make sure you find your way to the show when they're in your town, and experience for yourself the effect  "feeling more energized about our music and playing together than ever" has had on the band's already legendary live performance.
--
Tour Dates
08/02/11 - Hyannis, MA @ Cape Cd Melody Tent
08/03/11 - Danbury, CT @ Ives Concert Park
08/04/11 - Newport, RI @ Newport Yacht Club
08/06/11 - Portland, ME @ Concerts on the Waterfront at Ocean Gateway
08/07/11 - Baltimore, MD @ Pier Six
08/09/11 - Asbury Park, NJ @ Stone Pony
08/11/11 - Philadelphia, PA @ Festival Pier
08/12/11 - Boston, MA @ Bank of America Pavillion
08/13/11 - Canandaigua, NY @CMAC
08/15/11 - Vienna, VA @Wolf Trap
08/16/11 - Portsmouth, VA @ nTELOS Pavillion
08/17/11 - Myrtle Beach, SC @ House of Blues
08/19/11 - Charlotte, NC @ Uptown Amphitheatre at The Music Factory
08/20/11 - Mt Pleasant, SC @ Patriots Point
08/21/11 - Pompano Beach, FL @ Pompano Beach Amphitheatre
08/23/11 - Tampa, FL @ Ritz Ybor
08/24/11 - Atlanta, GA @ Chastain Park
08/29/11 - Indianapolis, IN @ The Lawn at White River
08/30/11 - Detroit, MI @ The Fillmore
08/31/11 - Grand Rapids, MI @ Meijer Gardens
09/02/11 - Interlochen, MI @ Kresge Auditorium
09/03/11 - Highland Park, IL @ Ravinia Festival09/04/11 - Columbus, OH @ LC Pavilion