Halle & The Jilt Releases "Three Roads Home" on April 16, 2013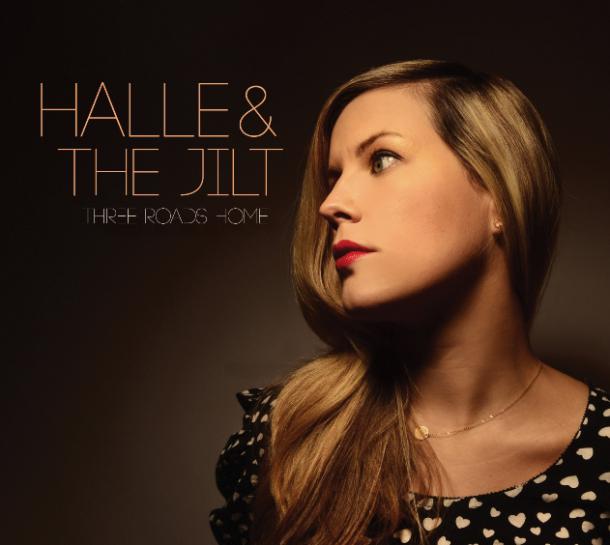 On April 16, 2013, Halle & The Jilt will release Three Roads Home, the follow up to their critically-acclaimed debut, Lucky You.  The 10-track album highlights lead singer, Halle Petro's versatility as a songwriter, genre-skipping from blues/soul to pop/rock.  Three Roads Home is an exploration in love and relationships. "I don't believe life is about waiting for something to happen to you," says Petro.  She goes on, "The title of Three Roads Home is a reflection of this. Home can be defined as a place, another person or yourself.  The choices in our lives represent the roads we take. The record is about chance and taking risks. Simple...door #3 kinda thing."
Petro wrote all of the music/lyrics, arranged and produced Three Roads Home, and will self-release the album. "Most lyrics are direct references from personal diary entries that have been adapted to fit the form of songs," says Petro, "Unfortunately, I wear my heart on my sleeve!" On Three Roads Home, she takes the listener on a journey through the stages of grieving a broken relationship - from shock ("Graveyard of the Ocean"), to anger ("Kiss My Ghost"), to forgiveness ("Confessions") and finally, to acceptance ("Signs").
Halle developed her love for music growing up in Cleveland, OH. Both her father and grandfather were aspiring musicians and encouraged her to take piano and voice lessons. The family would dance in the kitchen to the Motown songs her father loved. "James Brown was my first concert at 5. We sat in the last row of the Front Row Theater, stood on the seats and danced." She made the move to NYC after college, but it wasn't until she joined a band in NY and began covering rock songs at gigs throughout the city that she realized she had something of her own to say. It was then she decided to start her own band, and Halle & The Jilt was born in 2009. While Halle noted it was "terrifying" to sing her own lyrics, she also felt it was empowering. "I took a day job so I could produce Lucky You, then quit so I could tour and promote it," she laughs. The overwhelming response she received from fans helped, and the demand for a second album led her to Kickstarter. After a successful campaign to raise funds for the album, just a few months later, Three Roads Home was completed.
"To me singing is like being in a dark room spilling all your secrets," Petro says. The album morphs her from coquettishly vulnerable to devilishly roaring, and was recorded mostly live in the studio. "I wanted this record to sound as if we are in that room with the listener."
Halle & The Jilt's Three Roads Home tour will kick off in the spring.  Tour dates to be announced shortly.
Halle & The Jilt are:
Halle Petro - Vocals, Music, Lyrics
Michael Gomez - Guitar, Music
Tim Luntzel - Bass
Jon Wert - Drums
with various musical guests