Happy 70th Birthday, Robert Hunter!
Submitted by mike on Fri, 06/24/2011 - 03:29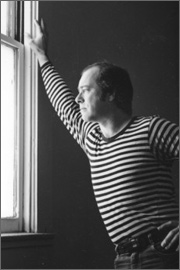 What a long, strange trip it's been indeed... June 23 marks lyricist, singer-songwriter, and poet Robert Hunter's 70th birthday. A long-time "member" of the band, Hunter first joined up with his old friend Jerry and the gang after penning the fantastical "China Cat Sunflower." He would go on to write countless lyrics for the majority of the band's original songs including the much-beloved "Dark Star," the all-time classic "Friend of the Devil," and of course, "Truckin'."

-
Robert Hunter joined the Grateful Dead in the fall of 1967, when he arrived at a rehearsal just in time to write the first verse of the band's classic "Dark Star." Though he'd never play onstage, he became not only a genuine band member but its secret Ace in the hole. Though Bob Weir's words for "The Other One" would endure, most of the band's early verbal efforts would not; it was Hunter's work that would elevate their songs from ditties to rich, complete stories set to song. Hunter had fallen into the Dead's general scene in 1961 when he'd met Garcia in Palo Alto, and he'd played in several of Garcia's early bluegrass bands. But he'd always thought of himself as a writer -- probably a novelist -- and it was only in 1967 that he fulfilled his personal destiny, and enriched the Dead's. He's gone on to write several books of poetry, and is currently at work on a novel.
Robert Hunter turned 70 years old today, June 23rd, 2011.  Happy Birthday, Robert Hunter!