Happy Birthday, Jerry Garcia!
Jerry Garcia would be turning 69 years young today.  You're incredibly missed!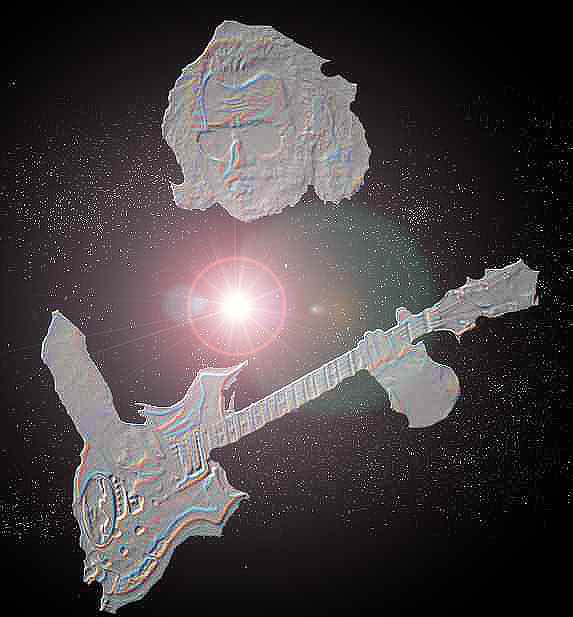 Some of my personal favorite in-person Jerry moments:
1) 9/18/87 -- My first deadshow -- I saw Pink Floyd and The Grateful Dead within weeks of each other.. talk about two amazing bands (granted this was Pink Floyd without Roger Waters.. but still amazing) -- the difference in the crowd's reaction could not have been more different.. bare in mind I was 16 years old -- The Floyd crowd could not move from their seats, whereas the dead crowd could not sit still. Both concerts were incredible and from the moment forward, i was hooked!  -- set 2!  Most amazing Dew of the 80's!  Good Lovin > La Bamba > Good Lovin! -- So much fun!
2) 3/29/90 -- Everyone has heard the stellar Eyes of the World with Branford Marsalis -- but being at the show with my high school gf, the immediate chemistry between Garcia and Marsalis, and just the energy in that crowd during set 2 -- something I'll never forget.
3) 6/25/91 -- I've seen Jerry having a good time on stage, but I've never seen him boogying down like he did this night --  Having killer seats helped -- normally I've been stuck seeing Jerry look more like an ant at Giants Stadium, but at this show I was in the 10th row, center stage, and I could actually see Jerry's smiles and he was dancing up a storm.  Good stuff!
4) 6/28/92 -- A crummy year for the Dead, Jerry had to take time off (remember the entire east coast Sept fall tour was canceled), he was really heavy, looked horrible -- but I will say we lucked out this night at Deer Creek -- Great setlist, as much energy as you'll find at any show in '92, and of course the killer Casey Jones encore.. at least I got to hear the tune once live!
5) 5/16/93 -- The entire weekend in Vegas was a blast!  Kimock was playing late night sets at the Alladin -- the weather was just so crazy and fun (storms, crazy winds, rainbows, you name it) -- set 2, particularly pre-space/drums -- killer!  Samson, Help-slip-Franklins (best Franklins of the 90's) and a killer Looks Like Rain -- The rest of the set was good, but not quite as good -- the Elvis-filled space was pretty out-there.

6) 6/15/95  -- Highgate, VT -- the show sucked!  Dylan blew the dead away! -- But... 100,000 deadheads in Vermont still cannot be un-fun!  -- The scene was HUGE --  Never felt more like a herd of cattle than when 100K moved an inch a minute (took about 3 hours -- or at least felt like it) to make it back to their campsites.  Sadly I saw only two more shows after this.. both at Giants and both crummy as well... but I am still incredibly thankful for the time I got to spend in the same halls as you, Mr. Jerry Garcia.
Some other great ones.. JGB at the Warfield!  It was like seeing Jerry in your living room!
Lots of Love,
The Grateful Web