Harlem Blues & Jazz Band 40th Anniversary Celebration on Friday
Submitted by Eigo on Wed, 04/17/2013 - 10:21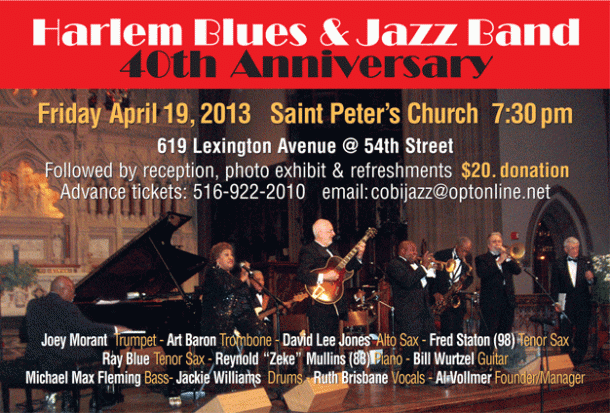 Harlem Blues & Jazz Band founder Al Vollmer was seized by the jazz bug at age sixteen while growing up in Sweden. He came to the US in 1947 and never left.  He went on to become an orthodontist and to follow his dream of meeting and getting to know some of the musicians he had only heard on recordings. He did just that and in 1973 the Harlem Blues & Jazz Band, was founded by King Oliver's trombonist/blues singer Clyde Bernhardt and Al Vollmer, dedicated to keeping the significant side-men of the Classic Jazz Period working and not forgotten.
The band has always had a strong link to Louis Armstrong from its inception. George James, the first saxophonist in the band, was with Armstrong in the '30's and participated in Armstrong's first triumphant return to his Native New Orleans. Bassist Johnny Williams joined and remained with the band for 25 years until his death in 1998 at the age of 90. He had been with Armstrong in the late '30's and again in the early '40's. (On occasion he would vocalize with Louis on the famous number "Rockin' Chair".)
An impressive number of musicians from the Classic and Swing eras have graced the various groups throughout the years, thereby giving an enviable authenticity and historical significance to the band's performances and recordings.
The Harlem Blues & Jazz Band was showcased in a documentary film by Anja Baron and Al Vollmer titled "The Last of the First". The documentary was acclaimed (2004) at prestigious film festivals in New York (Tribeca), Los Angeles and Newport R.I. Dr. Vollmer served as jazz consultant and Executive Producer for this crucial documentation of a significant part of jazz history. The most recent documentary film on the band is by Yuliya Tikanova  from Kazakhstan, acclaimed in Hollywood and Mumbi India.
Past members who have graced the band: Trumpets: Franc Williams "Doc" Cheatham, Bill Dillard  Trombone: Clyde Bernhardt, Eddie Durham Saxophone: George James, Charlie Holmes, Eddie Chamblee, George Kelly Piano: Sammy Benskin, Ram "Ramirez", Lloyd Meyers  Guitar: Al Casey (18 yrs) Bass: Johnny WIlliams (25 yrs), Al Hall Drums: Tommy Benford, Johnny Blowers (20 yrs)  Vocalist: Miss Rhapsody, Laurel Watson, Maxine Sullivan
Saint Peter's Church 619 Lexington Avenue @ 54th Street
7:30 pm, followed by reception and photo exhibit, $20. donation