Have Yourself a Fabulous Swingin' Holiday Season with "Christmas With The Puppini Sisters"!
Submitted by mike on Tue, 08/31/2010 - 19:12
Swingin' and rockin', sexy and eccentric have never before described a Christmas album--until now.  Then again, there has never before been an artist who claims both The Andrews Sisters and The Smiths as influences.  Holiday music finally puts on red lipstick, slips into a silky cleavage-celebrating ballgown, and goes gorgeous and glamorous with Christmas With The Puppini Sisters (Verve), released October 5, 2010.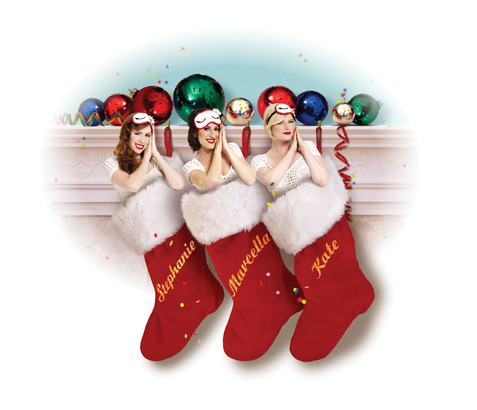 A female vocal trio featuring '40s-style close harmony, backed by a fearless jazz threesome, the retro-futuristic
Puppini Sisters
put their signature sequined stamp on timeless songs of the season for the sensational group's third album.  From a scorching cover of Mariah Carey's "All I Want For Christmas," hyperspeed "Step Into Christmas," oh-so-sexy "Santa Baby," cabaret "Here Comes Santa Claus" and lilting "Last Christmas" to a weirdly wonderful "White Christmas," scat-filled "Let It Snow," ukulele oozing "Mele Kalilimaka," uber-trad "Winter Wonderland" and divine "O Holy Night," the
Puppini Sisters
(no, they're not really sisters, that would be so on-the-nose) deliver original twists rather than nostalgic flashbacks.
Whether imaginatively reworking standards such as "Boogie Woogie Bugle Boy" and recent pop such as Beyonce's "Crazy In Love," or introducing new songs, the classically-trained London-based trio first captured the hearts of fans around the world with their international gold 2007 debut Betcha Bottom Dollar (#2 on the U.S. Jazz chart) and 2008's The Rise And Fall Of Ruby Woo (#5 on the U.S. Jazz chart).
Brunette Marcella Puppini, a former assistant to fashion icon Vivienne Westwood, had dreamed of becoming opera's next star.  Redhead Stephanie O'Brien began in music as a maverick of the classical world but found her niche playing gypsy jazz violin, South American harp and singing.  Blonde Kate Mullins, well, she sings like an angel and swears like a sailor.  The vocalists/multi-instrumentalists met in 2004 at London's Trinity College of Music while pursuing Jazz Performance and Composition degrees.  Offered a gig at an outrageous gay nightclub, they jumped at the chance to perform.  Marcella, who gave the band her name, worked out a hasty arrangement of Kate Bush's "Wuthering Heights" inspired by '40s swing and jazz.  The crowd adored their stunning vocals and cocktail hour charisma.
Since then, along with releasing several singles and two albums, they have performed at the Glastonbury festival and on an American stadium tour supporting Cyndi Lauper; been heard on TV series in the U.K. and the U.S., including "Grey's Anatomy"; and been in constant demand as guest performers at notable entertainment and fashion events across the globe.  Even Prince Charles personally told them he thought they were "splendid" (seriously, we could not make that up).
The Puppini Sisters
may have started out retro but they have become true originals.  With
Christmas With The Puppini Sisters
, holiday music never sounded so fresh and new.