Head for the Hills Announces 2014 Spring Tour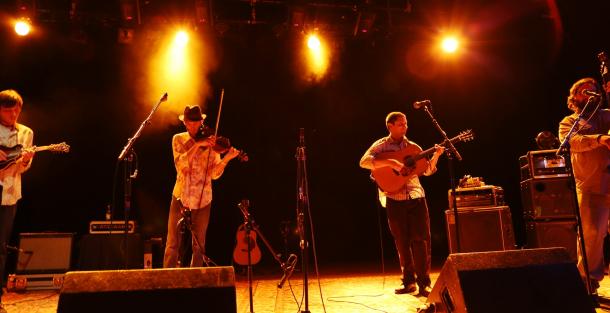 The newgrass quartet has announced their 2014 Spring Tour. The tour sees the group in the Western US and Colorado. It begins in Portland, and then ventures to Sisters OR, Seattle, WA and Eugene, OR. From there H4TH visits California for an evening Phil Lesh's famed venue, Terrapin Crossroads, for an early set and late set in the bar surrounding Leftover Salmon's performance in the Grate Room. A stop in Nevada City precedes a two night run at the Crystal Bay Casino performing two special after-shows following Leftover Salmon. The tour closes with a performance in Denver, CO at the Bluebird Theater with special guests Sister Sparrow and the Dirty Birds.
Head for the Hills has confirmed festival appearances at Summer Camp Music Festival (Chillicothe, IL) and Revival Festival (Harmony Park, MN) over Memorial Day weekend. The group performs a main stage set and a sold out late night show WinterWondergrass in Avon, CO this weekend.
Complete Tour Dates:
02.22 WinterWonderGrass Festival (Late Night Show) – Avon, CO
02.23 WinterWonderGrass Festival – Avon, CO
03.06 Town Square Tavern – Jackson, WY
03.07 Snowbasin Resort – Huntsville, UT
03.08 Snowbasin Resort – Huntsville, UT
03.20 Mississippi Studios – Portland, OR +
03.21 The Belfry – Sisters, OR `
03.22 Nectar – Seattle, WA
03.23 Cozmic – Eugene, OR
03.26 Terrapin Crossroads – San Rafael, CA #
03.27 Crazy Horse – Nevada City, CA
03.28 Crystal Bay Club Casino – Crystal Bay, NV *
03.29 Crystal Bay Club Casino – Crystal Bay, NV *
04.04 Bluebird Theater – Denver, CO ^
05.23-25 Summer Camp Music Festival – Chillicothe, IL
05.23-25 Revival Festival – Harmony Park, MN

+ – with Paper Bird
` – with Polecat
# – Early set/late set in the bar, Leftover Salmon performs in the Grate Room
* – Leftover Salmon After-Show
^ – with special guests Sister Sparrow and the Dirty Birds