The Henhouse Prowlers | Breaking Ground | Review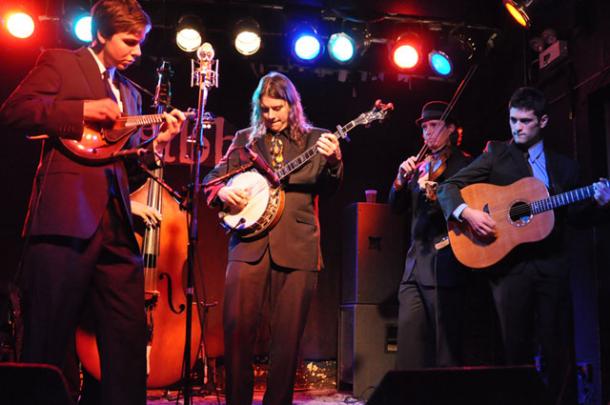 There is nothing sneaky but plenty that is sly about the talents of the Henhouse Prowlers.  With the new album, Breaking Ground, the Henhouse Prowlers are musical examples of the expression, "old soul".  They would fit right in barnstorming with Bill Monroe and the Bluegrass Boys, playing the Grand Ole Opry with Flatt and Scruggs…suit and ties and all…or sharing a festival stage with Old and in the Way.  Combine that ability with their youthful, high energy live performances and you get a band that is bound to cover much more than just a little more ground.
Starting out in Chicago, not thought of as a bluegrass hot spot, the Prowlers have been heating up the Midwest and the entire country for going on ten years with three previous albums and by playing lots of shows. Not only do the Prowlers represent the old school of bluegrass they literally represent the new school with a bluegrass curriculum for Evanston, Illinois elementary and middle schools.  By means of workshops and performances featuring the banjo, bass, mandolin and guitar, the Prowlers pass along the cultural significance of bluegrass in America.
Ben Wright (banjo)
Jon Goldfine (bass)
Dan Andree (fiddle)
Starr Moss (guitar)
On Breaking Ground, all members wrote songs for the album with each performing in exceptional and admirable roles instrumentally and vocally. Why Is The Night So Long takes on the topic of when love goes wrong, leaving the lovelorn laying in bed staring at the ceiling all night.  Banjo lovers will not be cheated with this album especially with the title track, Breaking Ground.  The lyrics are a little heavy yet uplifting as they deal with facing up to past mistakes made in life.  Instead of crumbling under the disappointments, the Prowlers are all about picking yourself up and continuing to "Git it!".  Den of Sin is another song about love gone wrong and the perils of operating under the impression of having everything sewn up tight when you leave your seemingly happy home for the weekend and upon returning, things ain't so happy.  There are two well known covers which the Prowlers make their own on this album. Pretty Polly, a bluegrass standard made famous by the Stanley Brothers is delivered in a most soulful manner and a lively rendition of Ain't Too Proud To Beg by Motown's, The Temptations.
Mo'grass anyone?