Henry Rollins debuts Deerhoof vs. Evil on KCRW this Saturday!
Submitted by mike on Fri, 01/07/2011 - 23:07
"I am very happy to be able to play Deerhoof's excellent new album Deerhoof vs. Evil in its entirety during
my weekly show
on 89.9 FM KCRW. A lot of the deejays at KCRW play Deerhoof often, so a new album from them is always welcome. We will play Deerhoof vs. Evil in the second hour of the show, at 7 pm PST on January 8.
Tune in
if you can."
–Henry Rollins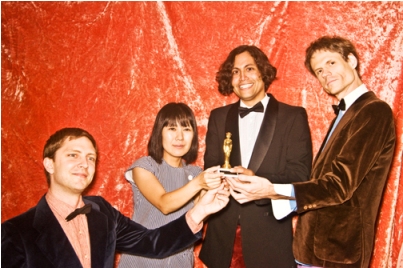 --
Deerhoof upcoming tour dates:
jan 27 - Sacramento, CA - Harlow's (w/ Nervous Cop)
jan 28 - San Francisco, CA - Great American Music Hall (w/ Nervous Cop, Ben Butler and Mousepad)
jan 29 - Los Angeles, CA - Echoplex (w/ Nervous Cop, Ben Butler and Mousepad)
feb 01 - Austin, TX - Mohawk (w/ Nervous Cop, Fingaar Bangaar, Ben Butler and Mousepad)
feb 02 - Dallas, TX - South Side Music Hall (w/ Nervous Cop, Ben Butler and Mousepad, Yann Teirsen)
feb 03 - Memphis, TN - The Hi Tone (w/ Nervous Cop, Ben Butler and Mousepad)
feb 04 - Nashville, TN - Mercy Lounge (w/ Nervous Cop, Ben Butler and Mousepad)
feb 05 - Athens, GA - 40 Watt (w/ Nervous Cop, Ben Butler and Mousepad)
feb 06 - Raleigh, NC - King's (w/ Nervous Cop, Ben Butler and Mousepad)
feb 07 - Washington, DC - 9:30 Club (w/ Nervous Cop, Ben Butler and Mousepad)
feb 08 - Brooklyn, NY - Ridgewood Masonic Temple (w/ Nervous Cop, Buke And Gass, Ben Butler and Mousepad)
feb 10 - Cambridge, MA - Middle East (w/ Nervous Cop, Ben Butler and Mousepad)
feb 11 - Philadelphia, PA - Theatre of Living Arts (w/ Nervous Cop, Ben Butler and Mousepad)
feb 12 - Pittsburgh, PA - Altar (w/ Nervous Cop, Ben Butler and Mousepad)
feb 14 - Pontiac, MI - The Crofoot Ballroom (w/ Nervous Cop, Marco Polio, Ben Butler and Mousepad)
feb 15 - Chicago, IL - Bottom Lounge (w/ Nervous Cop, Ben Butler and Mousepad)
feb 16 - Madison, WI - High Noon Saloon (w/ Nervous Cop, Ben Butler and Mousepad)
feb 17 - Minneapolis, MN - Triple Rock Social Club (w/ Nervous Cop, Ben Butler and Mousepad)
feb 18 - Iowa City, IA - Blue Moose (w/ Ben Butler and Mousepad)
feb 19 - Omaha, NB - Waiting Room (w/ Ben Butler and Mousepad)
feb 21 - Denver, CO - The Marquis (w/ Ben Butler and Mousepad)
feb 25 - Seattle, WA - Neumo's (w/ Special Explosion, Ben Butler and Mousepad)
feb 26 - Portland, OR - Holocene (21+ show w/ Ben Butler and Mousepad)
feb 26 - Portland, OR - Holocene (6pm ALL AGES show! w/ Neal Morgan)
mar 13 - Purchase, NY - SUNY Purchase Student Center
mar 14 - New York, NY - JapanNYC Festival at Le Poisson Rouge (w/ Ichi)
apr 19 - Paris, FR - La Maroquinerie
apr 20 - Belfort, FR - Impetus Festival at Le Poudriere
apr 21 - Metz, FR - Les Trinitaires
apr 22 - Lyon, FR - L'Epicerie Moderne
apr 23 - Lausanne, CH - Impetus Festival @ La Romandie
apr 24 - Schorndorf, DE - Manufaktur
apr 26 - Kortrijk, BE - De Kreun
apr 27 - Amsterdam, NL - Melkweg
apr 28 - Groningen, NL - Vera
apr 30 - Aarhus, DK - Pop Revo Festival at Voxhall
may 01 - Hamburg, DE - Hafenklang
jul 01 - London, UK - Performing Milk Man at Alexandra Palace (w/ The Flaming Lips performing The Soft Bulletin and Dinosaur Jr performing Bug)