Here We Go Magic @ Larimer Lounge | 5/5/11 | Review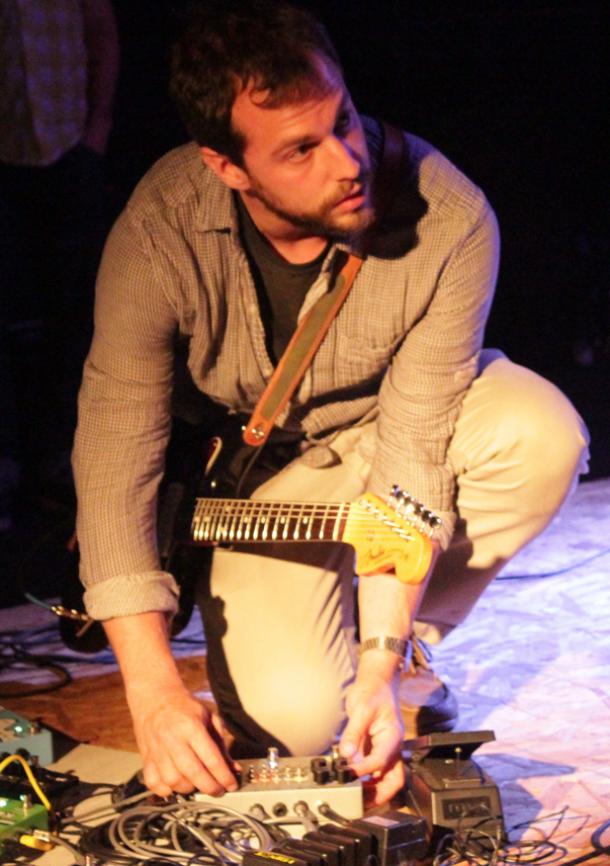 Brooklyn's Here We Go Magic led a Denver audience through a dream on Thursday night at the Larimer Lounge. Complete with gentle, spacey, sometimes poppy harmonies coming from seemingly distant sonic corners and joining up with layers of guitars, synth and drums; they achieved a certain density that rivals that of veterans like The Verve and Radiohead.
AroarA, a duo consisting of Andrew Whiteman (Broken Social Scene, Apostle of Hustle) and his wife Ariel Engle, opened the show and then came on stage for the bulk of HWGM's set to help fill a void left by the headliners' keyboardist Kristina Lieberson (as she had to fly home for a family emergency). The couple put the poetry of Alice Notley's In the Pines to music and capped their set with a sick cover of Public Enemy's "Black Steel in the Hour of Chaos."
HWGM have gained considerable street cred over the last few years: touring with Grizzly Bear and The Walkmen in 2009, supporting The New Pornographers on their European tour last year, two consecutive years at SXSW, having Thom Yorke praise them as his favorite act at Glastonbury last year, and making Thursday's foray to Denver fresh from a spot at Coachella this year. Their music speaks for itself, but the festival spots and touring with more established names, as well as the props from the Radiohead front man surely helps out with getting the word spread.
Despite the minor handicap of Lieberson's absence, Luke Temple (guitar, vocals), Michael Bloch (guitar, vocals), Peter Hale (drums, vocals) and Jen Turner (bass, vocals), with the help of Engle and Whiteman didn't fail to deliver a very satisfying performance.
Turner felt every note from every song--she doesn't just play the groove, she is the groove--dancing around in a black skirt while she thumped out the bass lines. Temple was clearly the boss and his serious demeanor and focus were apparent throughout the performance, banging out guitar rhythms and tweaking effects pedals alongside Bloch; they could hardly go wrong.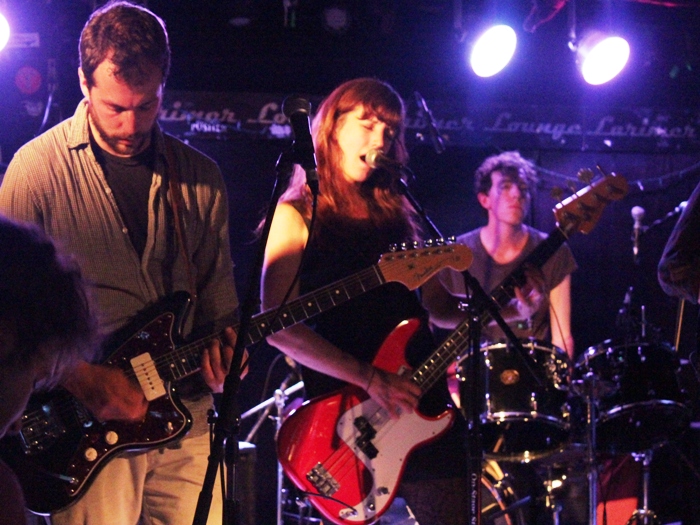 A fan called out for something off of their latest release (The January EP), to which Turner replied that they were running through the "easy stuff" since Lieberson was absent. Sticking to tracks from their self-titled debut and their 2010 release, Pigeons, the "easy stuff," which was hardly such, satiated the eager crowd. "Surprise" captivated with it's vintage guitar groove, while the thoughtful notes and abrupt stops of "Everything's Big," and the pop echo and gentle lyrics of "Casual," rode a unique train of synth notes into the hearts of their dedicated following.
The Larimer Lounge is the place to be to catch the goods before they hit the larger venues around the Front Range, and HWGM's stop there on Thursday was a certain testament to the fact. Don't miss this band the next time they hit your city, they stick out like a beautiful sore thumb in the vast ocean of indie music.