Hoots & Hellmouth join Langhorne Slim, Leftover Salmon on select dates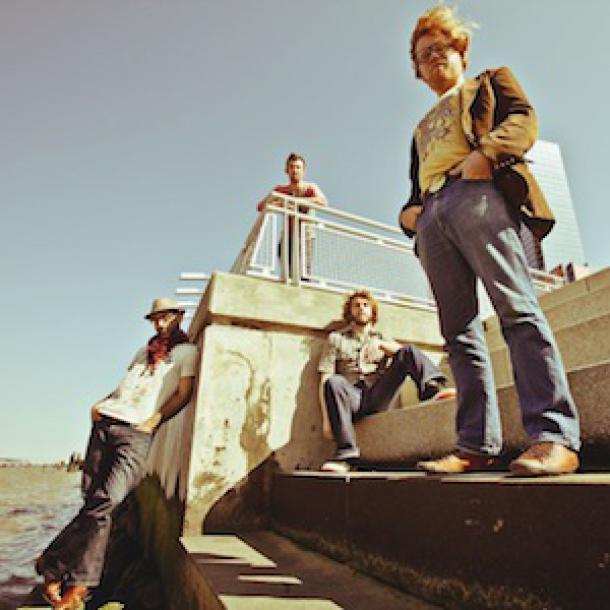 Hoots & Hellmouth
are announcing their summer tour in support of their adventurous new album
Salt
. Along the way, Philadelphia's pride and joy will be performing at Floyd Fest, Fayetteville Roots Festival, Strawberry Music Festival, and Midpoint Music Festival as well as supporting friend
Langhorne Slim
and perennial jammers
Leftover Salmon
.
Hoots & Hellmouth
are a busy bunch. Road warriors to the bitter end, they've somehow found time to enter the studio twice in the last year to produce two records showcasing their forward-thinking roots/soul music. Their latest offering, the full-length
Salt
, was recorded in their hometown of Philadelphia at Miner Street Studios with friend/engineer Jon Low (Dr. Dog, Sharon Van Etten, Twin Sister). The result speaks volumes to the evolution of a band committed to pushing their boundaries and exploring new sonic horizons.
Salt
builds on the fresh ground broken on their previously released EP,
Face First In The Dirt
, continuing down a path of explosive creativity. "Why Would You Not Want To Go There?" kicks things off with a building intensity reflective of their passionate live performances, but tempered with well-placed flourishes of piano and electric guitar.
H&H's
trademark soul vibe is thick on "Lay Low," incorporating the stomp groove and call-and-response vocals familiar to established fans of the band. By the time the listener reaches the middle of the record, the dynamic and deep "Apple Like A Wrecking Ball" and "The Ache" drive home the point that these guys are not content to rest on their laurels. To round it all out, album closer "Being Borned Again" continues their tradition of massive group sing-alongs so vibrant the listener already feels the chills of the anticipated live rendition.Lyrically,
Sean Hoots
has always endeavored to keep a keen eye on the craft of songwriting, and Salt showcases the artist on top of his game. These new songs reveal a greater depth of vulnerability and personalization unheard on previous
H&H
offerings. This is the sound of a writer digging deep, planting seeds and harvesting a bumper crop of thought-provoking, soul-scraping tunes.With all the envelope-pushing found on
Salt
, one thing that won't change any time soon is the band's love of the road. Touring the old-fashioned way (relentlessly!), the band performs in all manner of venues on their own and with friends like Dr. Dog, O'Death, Heartless Bastards, Langhorne Slim, Grace Potter, etc. From rock clubs to folk festivals, they tour consistently and persistently, including triumphant stops at Wakarusa, the Philadelphia Folk Festival, SXSW, thousands of dive bars and more than a few farms in between
Hoots & Hellmouth Tour Dates:
June 28 – Salt Gastropub – Stanhope, NJJune 29 – Abbey Bar @ Appalachian Brewing – Harrisburg, PAJuly 7 – Morgan's Pier – Philadelphia, PAJuly 25 – Greenfield Lake Amphitheater – Wilmington, NC #July 27 – St. Clair Park Amphitheater – Greensburg, PAJuly 28 – FloydFest – Floyd, VAJuly 29 – FloydFest – Floyd, VAAug 2 – Wicked Twisted – Nashua, NHAug 4 – Grange Fairgrounds – Centre Hall, PAAug 5 – Harmony Arts Jamboree – Myersville, MDAug 17 – Shepherdstown Opera House – Shepherdstown, WVAug 18 – Purple Fiddle – Thomas, WVAug 21 – Ottobar – Baltimore, MD *Aug 22 – The Grey Eagle - Asheville, NC *Aug 24 – Fayetteville Roots Festival – Fayetteville, ARAug 25 – Fayetteville Roots Festival – Fayetteville, ARAug 28 – Flagstaff Green Room – Flagstaff, AZ *Aug 29 – Hotel Cafe – Los Angeles, CAAug 30 - TBA - Santa Barbara, CA *Aug 31 – Strawberry Music Festival – Yosemite, CASept 1 – Mystic Theatre – Petaluma, CA *Sept 3 - TBA - Salt Lake City, UT *Sept 4 – Hi-Dive – Denver, COSept 7 – Wheatland Festival - Remus, MISept 8 - Wheatland Festival - Remus, MISept 9 – Salt of the Earth – Fennville, MISept 29 - Midpoint Music Festival - Cincinnati, OH * Supporting Langhorne Slim# Supporting Leftover Salmon