Hymn for Her's psychedelic country blues rock on new CD
Submitted by conqueroo on Tue, 02/12/2013 - 10:50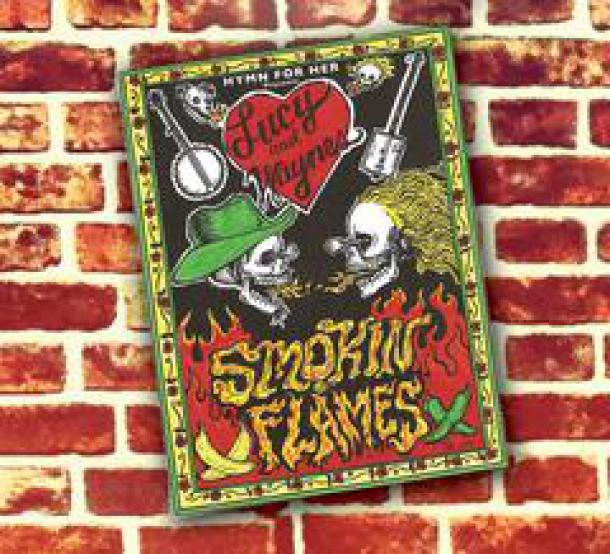 Lucy Tight and Wayne Waxing of Hymn for Her have been busy touring across the country and abroad over the past few years, injecting juiced-up backwoods country blues with a dose of desert rock psychedelia that has been described as "Hell's Angeles meets the Amish."
They recorded their last album, Hymn for Her Presents . . . Lucy and Wayne and the Amairican Stream, in their vintage 1961 Bambi Airstream trailer at locations stretching from Philadelphia to Malibu on a three-month tour.
For their new release, Hymn for Her Presents . . . Lucy and Wayne's Smokin Flames, due out April 23rd, the twosome wanted to kick it into high gear. They traveled to Detroit to work with Jim Diamond, who mixed The Amairican Stream. In his Ghetto Recorders studio, the former White Stripes producer helped evolve their "stompgrass" sound to something even more heavy and rockin'. 
Arriving at Diamond's studio with road-tested tunes, Hymn for Her recorded live and mixed 12 original songs in just one week. "People wanted what they heard live at shows and we captured that moment and corked it," explained Lucy.
The duo certainly covers a lot of musical territory in Smokin Flames. Their wild-eyed mash-up of country, blues and punk led U.K. music critic Steve Bennett to call H4H's sound "a riotous, rocking roadkill stew," while others have referenced such diverse bands as Captain Beefheart, Primus, X, R.L. Burnside, JS Blues Explosion and the Ramones.
Impressively, the two create their "ripsaw sounds" (Los Angeles Times' Randy Lewis) with only a few instruments. Wayne (with the devilish voice), mainly playing the kick-drum, high-hat, acoustic guitar and harp, serves as the group's rhythmic driving force. Lucy (of the fallen-angel voice) delivers a gritty squall on her "Lowebow" — a custom-made cigar-box guitar that she describes as "The Riff Monster." In "Trash the Sun" Lucy launches a solo into the stratosphere, while she kicks up a sonic dust storm on "Mojave."
"Mojave" stands among several Smokin Flames songs that were inspired by Lucy and Wayne's desert night highway hallucinations. "Rosa Parks Blvd.," a revved-up punk-abilly number, comes from their squatter days in Detroit. "Landescape," an ode to nomads, suggests finding a place to cherish and hold in one's heart during life's hard travels.
After reading a plaque at Big Sur's Pfeiffer Beach about a young girl, her mother and grandmother who all drowned together, Lucy was inspired to write the deeply felt "Ivy Pacheko." She revealed that H4H weren't planning on including this tune on Smokin Flames; however, just before the recording sessions began, she got an email reply from Ivy's brother (nearly a year after emailing him). He thanked her for writing the song. Lucy saw this as a sign the song needed to be on the album.
"Ivy," along with tracks like "For the Dead" and "Dark Deeds," takes listeners down a rather macabre path. The demonic-sounding "Lucy Fur" continues down this blood-stained dirt road with its story about "the daughter of Lucifer," but actually reveals the duo's devilish sense of humor. The tune, according to Wayne, is about their beloved six-year-old spawn, "99% angel, 1% baby of Beelzebub".
Although Hymn for Her hails from Philadelphia, Lucy characterizes H4H as "a band born on Route 66." With their daughter Diver, Manny the nanny and Pokey, their spirit guardian dog, this little self-contained unit enjoys life's unknown adventures on the highway. They recently had a successful U.K/European tour and plan to return soon.
Along with launching the new CD, Hymn for Her also have a hot sauce brewing under the same name as the album. They have been mixing, tasting and testing with their friends, Armando y Jorge's Orlandonian Hot Sauce Company, to get the perfect flavors that will rock as hard as the record. It will feature bananas, jalapeños and smoked paprika. These spicy minstrels are running a Kickstarter campaign through the first week of April to fund the project.
Always pondering new, space-age ideas for the future, the duo's motto in life is "Inspire 'til you expire."  They'd love to transform their Airstream rocket into a mobile studio, a touring radio station, a mini-cinema and popcorn stand (with banana hot sauce) or even a botanical garden.
Music, however, remains their lifeblood, as the two burn up the highway and ignite your town this year to promote Hymn for Her Presents . . .Lucy & Wayne's Smokin Flames.
Come out and taste the heat, y'all!