I'll Have The Widespread Panic With A Side Of Galactic
Submitted by ryan on Wed, 09/07/2005 - 16:20
The Jazz Aspen Festival is more of a gumbo of American music than jazz musicians' guild these days, but who's complaining? With the aspen trees barely showing signs of an approaching Fall, hot days were lending themselves to much colder nights and the perfectly sized crowd seemed poised for a great weekend of music. The melancholy recognition of those suffering in the South was braided throughout the sets, yet the bands got down to business.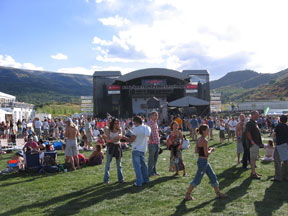 The first day of music was kicked off with Widespread Panic's close friend, Jerry Joseph, and followed by Johnny Clegg. The crowd was surprisingly light as Panic took to the stage around 6:15 on Thursday evening and launched into an extended Rebirtha with taunts and teases that segued nicely into Junior. Old Neighborhood and Good People seemed to be a nod to those suffering in New Orleans, which was appreciative, but slowed the set a bit. In an attempt to shift gears, the band began the familiar progression of the crowd-pleasing J.J. Cale cover, Ride Me High. Run For Your Life is an interesting Beatles choice for Panic, but they pull it off well and it proved to be a nice mid-set treat. I was excited to hear an older Pigeons as well as another J.J. Cale cover, Travelin' Light. A set closing Give ended a modest, slow-paced set as the sun also took a break behind the surrounding hills of Snowmass.
The second set started with a rockin' version of Disco as Dave Schools rolled the band into the well-accepted new tune, Second Skin. A personal highlight of the evening for myself had to be the Blind Faith cover Can't Find My Way Home. John Bell (JB) sounded great and reminded me of the original soulful singing of Winwood & Clapton. After a fairly standard Rock came the slow spacey jam in the key of D that could only mean one thing, Driving Song. Driving Song segued fairly abruptly into R.L. Burnside's Snake Drive, which I believe is the only second time its been played. I remember it being pretty straightforward rock with a freight train kind of feel. Snake Drive dissolved into a short and sweet Drums that inevitably led back into Driving Song. Knocking 'Round the Zoo really got the crowd excited as the set closed with a low-end thumping Imitation Leather Shows.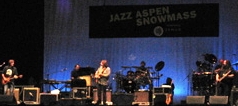 An emotional Old Joe encore was a bittersweet reminder of the passing of original guitarist, Mikey Houser, but quite nice to hear. An aptly played Bayou Lena with Wally Ingram helping Sonny on percussion would have left any Panic fan happy but they didn't stop there. They decided to end things with a short ripping version of the live favorite, Fishwater. All in all, Panic's first night was good but I couldn't help but feel the band was taking a warm-up lap of sorts. So, we shuffled on to our Magic Shuttle Bus to take us home and looked forward to another music-filled tomorrow.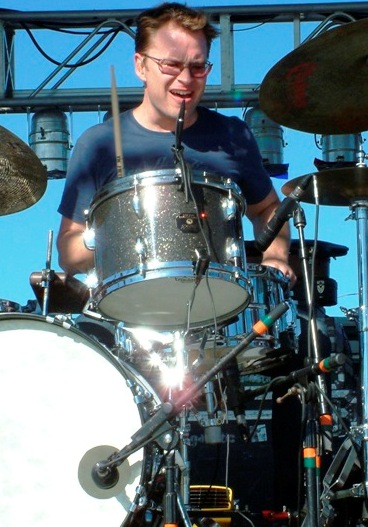 GALACTIC – Friday Afternoon Set
The afternoon of Galactic's set could not have been more beautiful. The sun was shining, kids were running around and the token throwing of the football had all signs pointing to a great day of music. If you're familiar with Galactic's New Orleans style of music, you know their sound is big, festive and much like a parade of funk dancing down Bourbon Street. But, when Galactic took the stage on Friday afternoon, you could tell their hearts were heavy with thoughts of their friends, family and beloved city. Stanton Moore struggled through a few words about donations before the band tried to settle into their set. If ever there was a time for music to act as a healer, it was now. The band played well but the festive atmosphere of the guys seemed to be lacking, and rightfully so. They played the bayou-based Dirty Dozen Brass Band's Lickity Split and wished them and their families well. Something was telling me Galactic was going to wait until the late night show to throw down. The setlist was:
I: Garbage Truck, Crazyhorse Mongoose, Lickity Split, Double Wide->Go Go, BK Instrumental, Clock Intro->Clock Stopper, Groovy Lady, Blackbird Special, Black-Eyed Pea
WIDESPREAD PANIC – Friday Night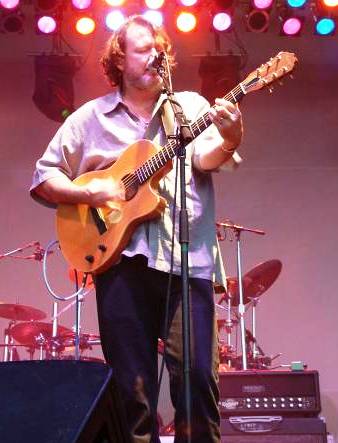 The New Orleans nods continued as Panic kicked off the second night with Talking Head's cover Papa Legba, a song about a voodoo god. Thin Air (Smells Like Mississippi) and Doreatha gave George McConnell a chance to give his quick licks on lead guitar. A standard Weight of the World led to another aptly played tune, Down, as the lyrics "take along some of your favorite things 'cause you're gonna need 'em" rang with realism. The feel good country rock of Papa Johnny Road got everyone dancing for the upcoming Diner and crowd-cheering Tallboy. The first set ended with yet another not-so-subtle tune tied to the disaster in New Orleans, Climb to Safety. A great set closer. It was both chilling and uplifting to hear Bell and the crowd sing, "we must grab each others collar, we must rise out of the water and you know as well as I do it's no fun to die alone."
A giant of a second set began with old time favorite Love Tractor and led into Bust It Big. The Chilly Water>Worry>Chilly Water sandwich was appropriately well received and I, for one, was glad to hear the slower, emotional I'm Not Alone. The set kept moving with a newer You Should Be Glad, then older Tie Your Shoes that segued into Jack, and eventually led into Hot Tuna's Bow-Legged Woman. Porch Song, a Widespread Panic concert staple, closed the set and the show proved to be pure rock as Panic can only play it.
To finish us off, the band played yet another three song encore. The always-danceable All Time Low plowed its way into a frenzy and gave way to War's Slippin' Into Darkness. The final tune, Action Man, was more of an exiting tune for me by this time. What can I say? I had to go see Galactic again.
GALACTIC – Friday Late Night Set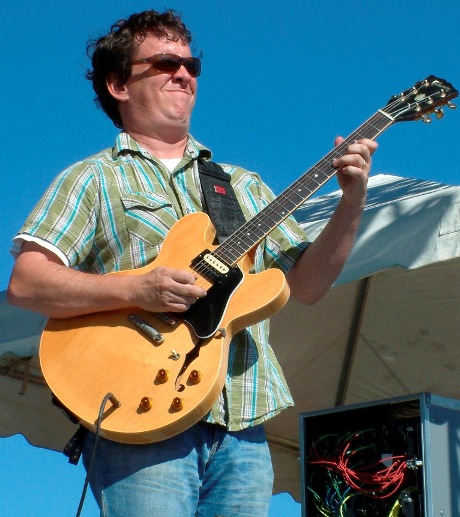 The Snowmass Conference Center is not your normal venue. A little surprised and a little late, (hey, cut me some slack-this is my eighth straight hour of music) I meandered into the bouncing crowd. Already I could tell things were much more livelier than earlier in the day. Maybe it was the absence of the afternoon heat or the smaller confines of the Conference Center, but the people were moving and the music was loud. The band seemed to be enjoying themselves a little more too which always is a good thing. A guest appearance from P-nut on the midi-sax on Hot Pants Road was nice as was the show ending mega-medley Tippi Toes->Funkybird->Tiger Roll->Space Headz. In a growing trend these days for Galactic, they chose to wind things down for their encore and played a crowd settling Quiet Please.
I: It Ain't What You Think, Forbidden Horn, Baker's dozen, Blues For Ben, Moil, Workin' In A Coal Mine, Chicken Pox, Live Wire
II: Daydreaming, Santa Cruz, Mario Groove, Hot Pants Road*, Calypso Minor, Hit The Wall, Tippi Toes->Funkybird->Tiger Roll->Space Headz
E: Quiet Please
All in all, the weekend was a success for myself and the bands I was lucky enough to catch. For such a relatively small festival, there were great musicians all over the area and music coming at you from all sides. But even if I didn't see all the acts, in the end it doesn't matter who's playing the music, as long as the music moves your feet.