THE INFAMOUS STRINGDUSTERS at Fox Theatre | 1.18.12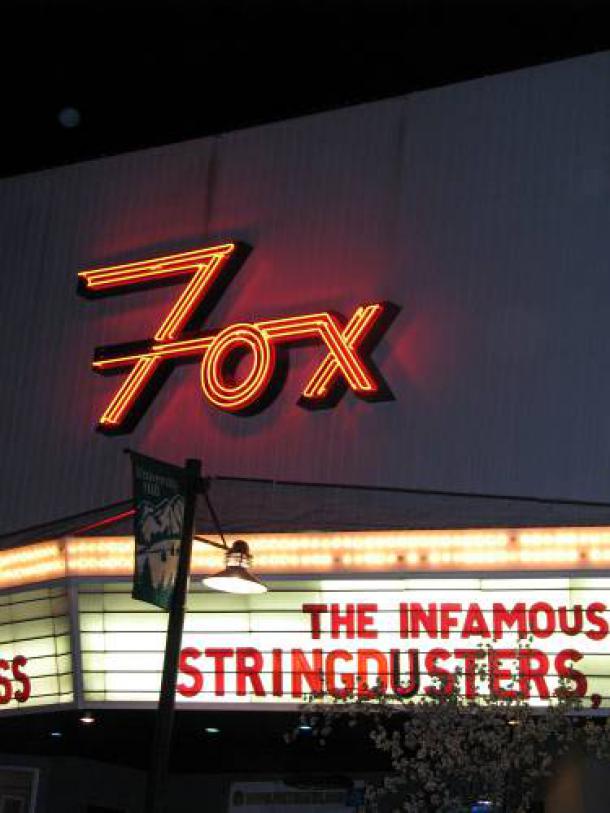 Z2 Entertainment is proud to present The Infamous Stringdusters Ski Tour 2012 at the Fox Theatre on Wednesday, January 18th.  Tickets go on sale Friday, October 21st for $16.00 in advance and $18.00 day of show.
The Infamous Stringdusters are at the forefront of a new movement in bluegrass music. Their unmatched virtuosity has enabled them to take acoustic music to a completely new level. They wield an expansive repertoire touching on masters from Jimmy Martin to John Hartford, but their strength lies in their original compositions. Dedication to arrangements sets them apart and extended improvisation makes every performance completely unique. The live Stringdusters experience is anti-formulaic, groove friendly, and mind‐expanding ‐ not your granddaddy's bluegrass.
The 'Dusters' first two albums were impressive in their own rights. Fork In the Road proved the band's chops right out of the gate, earning International Bluegrass Music Association awards for Album, Song, and Emerging Artist of the Year. Following that, The Infamous Stringdusters showcased a solidified lineup and exciting chemistry adding guitarist Andy Falco. But Things That Fly, recorded over ten days at Charlottesville, Virginia's Haunted Hollow Studios and out April 20, 2010 on Sugar Hill, is a different animal entirely.
There are a good many lush, new layers to the Stringdusters sound. Explains Book, "I think string bands have a tendency to feel like when they go to record, doing anything that they can't necessarily replicate 100 percent live is sort of off limits. Instead of saying 'Well, this is how it sounds when the six of us play it standing around in a circle, so we're just going to put mikes up and capture it and that's going to be it,' we really got a little deeper in the production aspect."
"A lot of those pre-production sessions were focused on arranging the music, because, for us, with six guys and five soloists and three singers, so much of what makes that music uniquely Stringdusters-sounding is the way that it's arranged," explains Pandolfi, who's also the band's setlist-maker and de facto tour videographer. "Even though the writing credit might only reflect one or two guys, really pretty much all of those songs were a six-way collaboration."
--
Wednesday, January 18th, 2011
Doors:  8:30 pm
Show Time:  9:30 pm