The Infamous Stringdusters Launch Road To Boulder Tour Dec. 4th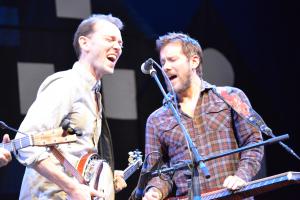 The Infamous Stringdusters will embark on a winter tour starting in the Midwest, leading them to Boulder, Colorado and back east while raising the profile of the devastating floods that took place in Colorado in September. Additionally, The Infamous Stringdusters will release their first new single in nearly two years aptly named "Road To Boulder" written by the band's Andy Hall while he was deciding whether to move from Nashville to Charlottesville, Virginia or Boulder, Colorado. Hall landed in Lyons, Colorado, one of the most deeply affected towns of the September floods, which left an estimated $1 billion in damages in the state.
"Road To Boulder" will be released on the new EP Road To Boulder, and features Bruce Hornsby on accordion. The EP was produced, engineered, and mixed by Billy Hume. The other three tracks on the Road to Boulder EP are live tracks recorded at Bluegrass Underground. Additional recording on Road To Boulder includes Tossington Sound with Wayne Pooley (Bruce Hornsby) and mastering at Airshow by Dave Glasser. The Infamous Stringdusters send a special thanks to Bruce Hornsby, Wayne Pooley, Dave Glasser, and Billy Hume for contributing their art to the cause. Proceeds from Road To Boulder EP sales go to the Oskar Blues CAN'd Aid Foundation for flood relief.
The Front Range in Colorado is a very dear and special place to the 'Dusters, who have long had a strong foothold in the market (Travis Book grew up in Durango) and now two members of the band call it home (Chris Pandolfi lives in Denver, and Andy Hall in Lyons, respectively). The devastation in parts of Colorado from the flooding was hardly noticed by national media and much rebuilding is still needed. Over 1,500 families lost their homes, countless residents were displaced, and certain areas are still awaiting recovery of necessary utilities. No doubt, sometimes the greatest of tragedies brings communities together, and the Front Range is no exception to that truth. The Infamous Stringdusters wish to do their part in rebuilding a place they consider to be home.
On the Road to Boulder Tour, The Infamous Stringdusters are partnering up with Colorado-based, Oskar Blues, and the Oskar Blues CAN'd Aid Foundation to assist in Colorado Flood Relief efforts. To date, the brewery which still operates its original brewpub in Lyons, Colorado, has raised nearly $250,000 and distributed over $200,000 to individuals, families, and small businesses affected by the September flooding. The Infamous Stringdusters will be joined on tour by Colorado-based Paper Bird, and ONE DOLLAR from every ticket sold will benefit the CAN'd Aid Foundation's Colorado Flood Relief Fund. https://foundation@oskarblues.com. All proceeds from the sales of the single "Road to Boulder (feat. Bruce Hornsby)" [Available November 19] will also go to the CAN'd Aid Foundation. Fans can keep an eye out for special Oskar Blues Pre-Show events in each tour stop.
Road To Boulder Tour:
12/4 – Newport Music Hall – Columbus, OH
12/5 – Majestic Theatre – Madison, WI
12/6 – Liberty Hall – Lawrence, KS
12/7 – Boulder Theater – Boulder, CO
12/8 – Boulder Theater – Boulder, CO
12/10 – The Parish – Austin, TX
12/11 – George's Majestic Lounge – Fayetteville, AR
12/12 – Track 29 – Chattanooga, TN
12/13 – Cat's Cradle – Carrboro, NC
12/14 – Ziggy's By The Sea – Wilmington, NC

2014 Ski Tour:
2/6-9 – Big Sky Big Grass – Big Sky, MT
2/11-12 – Mangy Moose – Jackson, WY
2/14 – Park City Live – Park City, UT
2/15-16 – The Aggie Theatre – Fort Collins, CO
2/17-18 – Belly Up – Aspen, CO
2/20-21 – Sheridan Opera House – Telluride, CO
2/22 – Last Chance – Gunnison, CO
2/23 – Winter Wondergrass – Vail, CO

Track listing Road To Boulder (feat. Bruce Hornsby) EP:
1. Road To Boulder (feat. Bruce Hornsby)
2. Night On The River *
3. Well, Well *
4. Place That I Call Home *
* = recorded live at Bluegrass Underground