Innova Disc Golf Names Zach Deputy Celebrity Ambassador
Zach Deputy has been appointed as one of the first "Celebrity Ambassadors" for Innova Champion Discs, the industry leader of disc golf, one of America's fastest growing outdoor sports. Zach Deputy, an emerging international musician, recording artist, an avid disc golfer is excited by the opportunity. He looks forward to helping expand the game by turning new people on to it.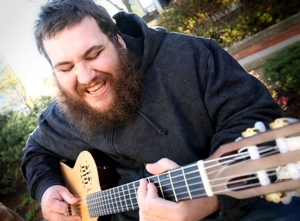 Innova, recognizing that Zach Deputy represents both an active, popular spokesperson for their company and the sport, is equally excited for him to join the Innova family. "Zach, in so many ways, is the embodiment of this sport. His passion and enthusiasm for the game represents everything that is good about disc golf. It is a game everyone can enjoy and we are in a time when recreation is extremely important." Deputy, for his part, agrees with this characterization but warns people who think of him as merely a celebrity face: "I'm no Ken Climo, but I'll beat your grandma!"
For the past three years, Zach Deputy has been touring North America and playing disc golf regularly across the continent. As a touring musician, Zach had only random opportunities to get some exercise and outdoor fun between all the travel and performances. Disc golf was presented to Zach by his Tour Manager (an avid disc golfer and course designer) as a great option. Soon Zach, Brian (Tour Manager) and Jeremy (Production Manager) were spending every spare hour at the links and at shops buying newer, better, specialized discs. The affordability and ease of play made disc golf an ideal fit for Zach and his crew.
In November of 2011, Deputy hosted the disc golf tournament at the Bear Creek Music Festival (Live Oak, FL). The registration proceeds were donated to the American Red Cross to support relief efforts in Haiti. In March of 2011, Deputy hosted his own music and disc golf event at the same location. He has recently been invited to host Disc Jam 2011, a music and disc golf event in Sturbridge, MA, this June. The convergence of Deputy's love of performing music and playing disc golf is perfectly presented in Disc Jam 2011. The event represented a bit of regional saturation from a business standpoint, but given the disc golf aspect of the event, Deputy and his management were able to justify participation. "I am really psyched to play music, of course", says Deputy, "but I see this as more of a disc golf event. I look forward to hosting another tournament, turning others on to the game, and using disc golf to enhance the concert goer's experience." Through Zach Deputy's involvement, Disc Jam 2011 is now officially sanctioned by the Professional Disc Golf Association (PDGA).
Since its origins in the early 60's, following the success of Wham-O's Frisbee, the PDGA was established in 1975, and is now the governing body for the sport. Disc golf has grown at a rate of 12-15 percent annually for more the past 3 decades, with nearly 3,000 courses in the United States and well over 3,000 globally. Disc golf is now played in over 40 countries worldwide, primarily in North America, Central and Western Europe, Japan, New Zealand and Australia. Regardless of which reality has fueled the other, Innova (established in 1983) has emerged as the clear leader in disc golf equipment and accessories during this time of dramatic growth. The Celebrity Ambassador position is a new one for Innova, and includes other notable public figures and entertainers, including the likes of hydrofoil world record holder Billy Rossini, Eric Friedman (Creed) and the Nashville-based band Framing Hanley. For Innova, Zach Deputy's audience represents a key segment of the population who ought to be playing the sport. Innova Team Manager Jonathan Poole said recently, "Zach is special. Positive energy just pours out of him and touches you immediately. The world needs more of that. His personality shines through on the golf course, just as it does on stage.  Zach is a perfect fit for disc golf and for our company, and we are honored to lend him our support."
---
Now On Tour:
6/9 The Upper Deck - Salisbury Beach, MA
6/10 Rock On! Concert Cruise - Boston, MA
6/11 Rocks Off - Skyport Marina, New York, NY
6/16 Stanhope House - Stanhope, NJ
6/17 The Waterhole  - Saranac Lake, NY
6/18 Water Street - Rochester, NY
6/19 Disc Jam - Sturbridge, MA
6/23 Music Farm - Charleston, SC  
6/24 Matilda's Art Gallery & Music - Alpharetta, GA
6/25 Freebird Live - Jacksonville, FL
6/30 High Sierra Music Festival - Quincy, CA (2 sets)
7/1 High Sierra Music Festival - Quincy, CA
7/2 Rothbury Festival - Rothbury, MI
7/3 Rothbury Festival - Rothbury, MI
7/5 Caspar Inn - Caspar, CA
7/6 Humboldt Brews - Arcata, CA
7/7 Aubergine After Dark - Sebastapol, CA
7/8 Don Quixote's - Felton, CA
7/9 El Portal Community Hall -  El Portal, CA
7/13 Fox Theatre - Boulder, CO
7/16 All Good Music Festival - Masontown, WV  
7/22 Evolve Fairgrounds - Antigonish, NS
7/30 Harmony Park - Geneva, MN
8/2 Magic Stick Lounge - Detroit, MI
8/3 El Mocambo - Toronto, ON
8/4 Elmdale House Tavern - Ottawa, ON
8/5 Camp Creek Festival -  Oxford, ME
8/6 Naukabout Festival - Cape Cod, MA
8/9 Songs at Mirror Lake - Lake Placid, NY
8/10 The Westcott Theater - Syracuse, NY
8/12 Ocean Mist - South Kingstown, RI
8/13 The Royal Family Affair - Bondville, VT  
8/13 Club Helsinki - Hudson, NY
8/16 Divan Orange - Montreal, QC
8/17 Kirkland Arts Center - Clinton, NY
8/18 Bella Terra Festival - Stephentown, NY
8/19 Phan Phest 6 - Morrisville, PA
8/20 Camp Barefoot - Bartow, WV
8/21 Great Bay Music Festival -  Dover, NH
8/26 Outer Banks Brew CO -  Kill Devil Hills, NC
8/29 Big Bamboo Cafe - Hilton Head, SC