The Irrepressibles Release Debut Mirror Mirror in America on 9/9
Submitted by mike on Sat, 06/25/2011 - 03:22
At long last, the flamboyant, fantastical, and unfathomable Irrepressibles will release their debut album, Mirror Mirror digitally in America on August 9th, followed by a special edition of the album October 25th featuring exclusive remixes from Röyksopp, Hercules & Love Affairand Zero 7 amongst others. The single "In This Shirt" will be available with exclusive remixes via Beatport on June 27th. For a taste of the album, the English group has also made "Forget The Past" available as a free download HERE (feel free to share), and see a performance video of "Forget The Past" HERE. The group has also released three videos for "In Your Shirt": check out the band performing in their creation The Human Music Box HERE, footage from the movie The Forgotten Circus HERE, and Roy Raz' video for the track HERE (NSFW).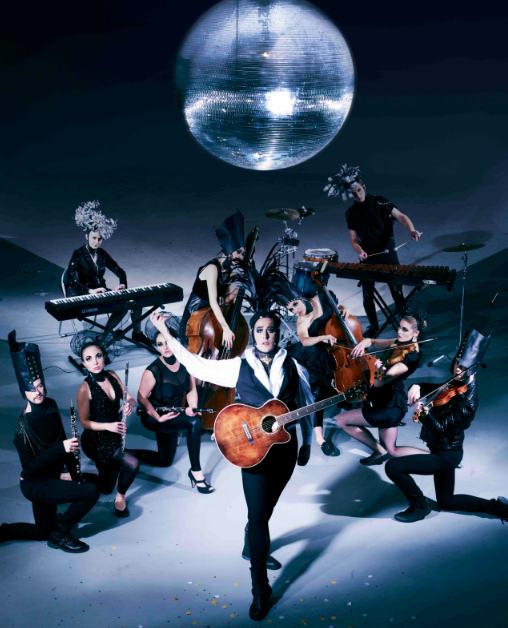 Led by creative director, conceptual artist, composer, lead vocalist and choreographer Jamie McDermott, the 10-piece performance orchestra has already earned comparisons to early David Bowie, Kate Bush, Anthony & The Johnsons and even Bonzo Dog Do Dah Band. And on Mirror Mirror, the band has created an unparalleled album that fuses European orchestration with pop melodies and soaring cathartic vocals. From the dramatic opener "My Friend Jo" to the galloping rhythms of "Anvil"; from the yearning echoes of "Forget The Past" through to the intensely intimate "In This Shirt", Mirror Mirror is a beautifully constructed sonic exploration depicting Jamie McDermott's confessional stories of love, anger, lust and loss with a journey through The Irrepressibles' mystical and theatrical world.
Over the last seven years, The Irrepressibles have pioneered a new frontier in pop performance. Using conceptual sets, and teams of artists in film, dance, avant-garde costume and make-up, the collective bring these songs to life through create extraordinary live spectacles. They have staged their inimitable displays all over Europe, including performances at the Hackney Empire, Roundhouse in London, a Roman amphitheatre in Barcelona, a 17th Century villa in Sicily, the infamous La Cigale in Paris, and played two shows at the Victoria and Albert Museum in London to capacity crowds.
-
Mirror Mirror Tracklist:
1. My Friend Jo
2. I'll Maybe Let You
3. In Your Eyes
4. Anvil
5. Forget The Past
6. Knife Song
7. My Witness
8. Nuclear Skies
9. Splish! Splash! Sploo!
10. The Tide
11. Transition Instrumental
12. In This Shirt