Jake Hertzog Trio Live At Miles Cafe This Friday!
Submitted by press on Thu, 03/03/2011 - 22:07
Jake Hertzog, one of the most original and exciting young guitarists on the of the modern jazz guitar and fusion. Drawing from extensive experience in the jazz world and indie rock scene, Hertzog has developed a truly original sound.  At only 24 years old, Jake has already released two critically acclaimed fusion albums, Chromatosphere (2009, Thats Out) and Patterns (2010, Buckyball).  A distinguished graduate of the Berklee College of Music, Jake performed with jazz greats Joe Lovano, Terri Lyne Carrington, Michael Wolff, Mike Clark, and Greg Osby. In 2006 He was also the youngest ever winner of the Montreux Jazz Festival Jazz Guitar Competition and was invited to open for John Scofield at the 2007 Montreux Jazz Festival.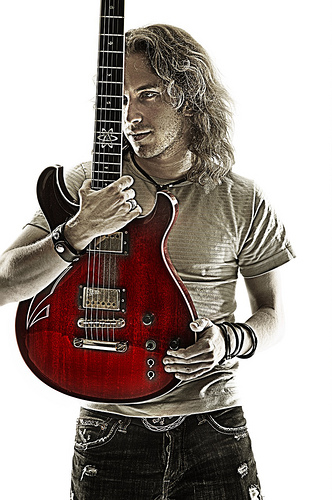 As a result of touring the US as bandleader for Nickelodeon pop-stars Nat and Alex Wolff, performing in arenas, and playing with dozens of indie rock bands in the New York scene most notably "Wakey Wakey",  Jake developed a ferocious performance style, uncommon in the jazz world.  In addition to an aggressive performance schedule, Jake is an active jazz educator and has done workshops all over the world.  He currently writes a jazz column for Guitar Player Magazine (US) entitled "Hey Jazz Guy", and has been coined "The jazz ambassador to the non-jazz world".  2011 will be an exciting year for Jake Hertzog, as a new album is set to be released late spring, as well as Jake's singer-songwriter project "The Young Presidents" will also be releasing a new album.
The Jake Hertzog Trio, featuring jazz legends Harvie S and Victor Jones is one of the most dramatic and exciting 'force of nature' acts in the instrumental world.  The unforgettable live experience is somewhere between, Jimi Hendrix and John Mayer, Pat Metheny and U2, Keith Richards and John Scofield.  The only way to find out is to experience it yourself.
 --
The band:
-Harvie S-  (bass)
The legendary Harvie S has performed and recorded with masters in music including Stan Getz, Chet Baker, Dexter Gordon, Jim Hall, Michael Brecker, Gil Evans, Mike Stern, Pat Metheny, Art Farmer, Toots Thielemans, Joe Lovano, John Scofield, Chick Corea, Erik Friedlander, Danilo Perez, Paquito D'Rivera, Pat Martino among many others and hailed by Jazz Improv as "one of the preeminent bass voices in jazz today."
-Victor Jones-  (drums)
Victor Jones got his start in Stan Getz's band and has since performed and recorded with Woody Shaw, Freddie Hubbard, Stanley Clarke, Michel Pettruciani, Dizzy Gillespie, Chaka Khan among others. One of the pioneers of "acid jazz", Jones continues to lead his own group "Culturversey", the current incarnation of which includes Jake Hertzog on guitar.
--
Jake Hertzog Trio with Harvie S (bass) and Victor Jones (drums)
Friday  March 4th,
7:30pm - 9:30pm
212 E. 52nd St. 3Fl.