Jake Shimabukuro Believes Music is Good Medicine
Submitted by mike on Wed, 11/03/2010 - 22:25
"If everyone played the ukulele, the world would be a better place." -Jake Shimabukuro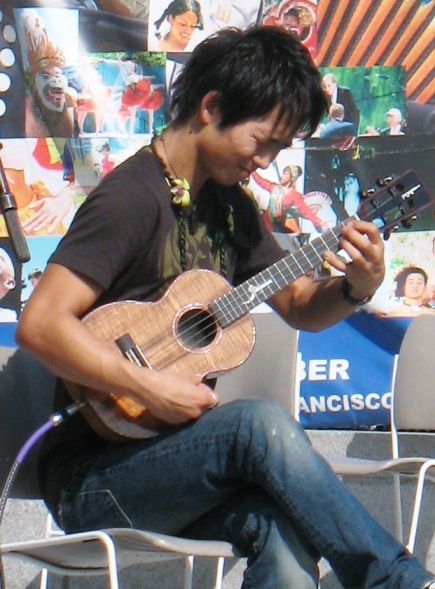 Jake Shimabukuro is recognized as one of the world's most exciting and innovative ukulele players and composers, having "given the ukulele a new respect altogether" (All Music Guide), as he demonstrates on his forthcoming album 'Peace Love Ukulele,' out January 4, 2011 on Hitchhike Records.
But as his career continues to blossom, Shimabukuro, a Hawaiian, is also busy giving back to his island community, using the ukulele as his tool. He's currently the head spokesperson for Music is Good Medicine (MIGM), a living-healthy community program that tours schools, hospitals and senior centers around Hawaii and on the US mainland, as well as in Guam, Saipan and Japan.
Shimabukuro's belief that music is good medicine goes all the way back to his childhood. "Ever since my mother first put a ukulele in my hands at the age of four," he says, "this magical instrument has been a positive force in my life – helping to steer me away from drugs, violence and other negative influences. It fueled my passion for music, which has helped me to develop in mind, body and spirit."
He points to the therapeutic, stress-reducing benefits of playing music and says the ukulele is one of the easiest instruments to learn, as well as one of the most affordable. "This tiny, four-string instrument is a universe of joy and healing, with a childlike quality about it that returns us to our youth and energizes us."