Jake Shimabukuro to Perform with Bette Midler for Queen of England
Submitted by mike on Wed, 11/25/2009 - 01:43
Jake Shimabukuro, ukulele virtuoso from Hawaii, will perform his arrangement of the Beatles' tune "In My Life" with Bette Midler for The Royal Variety Performance 2009 in Blackpool, England.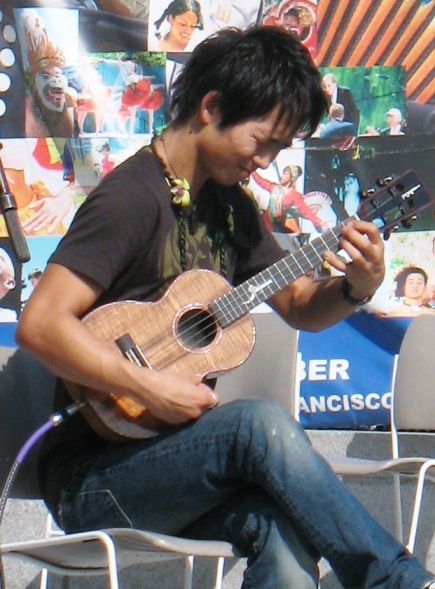 The Performance is presented annually in aid of the Entertainment Artistes' Benevolent Fund (the EABF), whose patron is Her Majesty The Queen.  Acts lined up to appear include: Oscar winner Whoopi Goldberg, Canadian singer and Grammy Award winner Michael Buble, teen superstar Miley Cyrus, and many more.
Midler, a multi-award winning performer also from Hawaii, has followed her fellow islander's career and loves Jake's arrangement of "In My Life," a Beatles cover that appeared on Jake's 2008 release, My Life.
"I was shocked to hear that Bette Midler knew my music.  I've been a huge fan of hers for many years," said Jake.  "She's like a queen of entertainment.  And to be performing with her for the Queen of England… it's a bit too much for me.  I'm just so honored."
The performance will be Jake's first time to England and second time to Europe after touring earlier this year in Stockholm, Sweden, Pori, Finland, Nice & Paris, France, and San Sebastian, Spain.
Blackpool's legendary Opera House is the largest theatre in the UK outside of London with a seating capacity of 3000.  The star-studded spectacle will take place on Monday, December 7 and be screened on ITV1, in the UK, later that month.  It will be produced by ITV Studios, the makers of the 2007 Royal Variety Performance, which attracted an impressive 9 million viewers.
The money raised from this event will help to maintain Brinsworth House in Twickenham, Middlesex – the entertainers' retirement and nursing home which is run by the EABF.