Jamie McLean - American Heartache
Submitted by press on Sat, 08/30/2008 - 00:21
Singer, songwriter and guitarist Jamie McLean likes to do things his way. From his tenure in the New Orleans based jazz ensemble the Dirty Dozen Brass Band to performances with Elvis Costello, Norah Jones and Widespread Panic to the debut of the Jamie McLean Band, his wailing guitar and flowing pen screams for the spotlight. Backed by a dynamic voice loaded with New Orleans soul and New York City swagger, McLean's transformation from hired gun to front man has been seamless. The songs on his latest release, American Heartache, are entirely Jamie McLean. Showcasing years of musicianship, McLean and company ooze drops of southern roots rock, blues, R&B, funk and soul out of every note. With the rock & roll attitude of the Rolling Stones and Black Crowes combined with the songwriting prowess of Tom Petty and Ryan Adams, the result is the Jamie McLean Band's latest effort.
Recorded over eight days at the legendary Allaire Studio near Woodstock New York, American Heartache rolls through twelve cuts of southern rock infused guitar, soulful melodies and radio ready choruses. The twangy guitars and driving rhythms of "Can You Hear Me Now" and "Garden of Thieves" are reminiscent of early Black Crowes while earnest ballads such as "Don't Do Me That Way" and "Bottle of Love" summon the songwriting influences of Elvis Costello. McLean's versatility and fret board mastery is on display on every track, as he coaxes that heavy, classic rock sound out of his army of Gibson guitars. Soulful lyrics pour from McLean's voice in trademark front man fashion. With producer Stewart Lerman (Rufus Wainwright, Richie Havens) at the helm, American Heartache is McLean's best work to date. "Allaire is a magical place to record and Stewart was able to really steer the ship in the right directions. He helped make each song as strong and concise and meaningful as possible," states Jamie.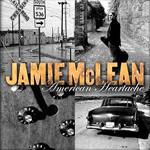 Featuring a plethora of special guests, American Heartache offers plenty of supplementary textures and styles. With additional recording completed in New Orleans during the New Orleans Jazz Festival, the Jamie McLean Band captures the essence of a city steeped in musical history. From trading bluesy guitar licks with Luther Dickinson (The Black Crowes, North Mississippi All-Stars) to adding the sexy and smoky vocals of Shannon McNally, McLean is in the company of good friends on this record. Joined by old band mates the Dirty Dozen Brass Band mixing up a chaotic horn section, everything comes full circle for Jamie McLean.
The remainder of 2008 is shaping up to be a gigantic year for the Jamie McLean Band. With a full-fledged album release tour in the works hitting all major markets, McLean is looking forward to seeing some familiar faces as well as securing some new fans. In the hopes of expanding their touring schedule to the western half of the country, the Jamie McLean Band is poised to take their music to the next level. The creative juices are pumping and Jamie McLean foresees the release of select lives sets, an entirely acoustic album and a possible new studio record on the horizon. "I feel like the band is really firing on all cylinders right now. We are amazingly productive with songwriting, singing and touring and look forward to releasing and performing as much of this great music as possible."