Jason Aldean Unveils Album Details | Out Oct. 16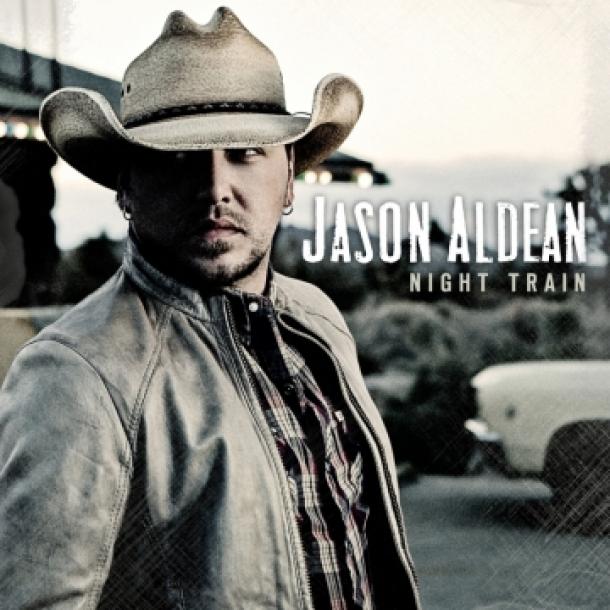 MULTI-PLATINUM and award winning entertainer Jason Aldean had an easy task when he picked a name for his fifth album for Broken Bow Records, out Oct. 16.  One of its 15 songs, "Night Train," perfectly embodied the tone of his career.  The train is moving, and it's moving at a rapid pace.
NIGHT TRAIN's lead single, driving country/rocker "Take A Little Ride," sold more digital downloads in its first week than any male country artist in history.  Currently approaching the Top 10 on the Billboard country songs chart in just its fourth week, the song was Aldean's highest chart debut to date.
"I feel really great about the songs we recorded for this album," said Aldean.  "There are some surprises on there that might raise a few eyebrows, and there's also some more traditional stuff too.  I don't like being put in a box, and I think with every record, we've had a lot of variety…'Night Train' is no different.  I got to do a cool uptempo song with Luke (Bryan) and Eric (Church), who've both been out with me over the last two years.  I love collaborations like that, and I think the fans dig it when artists get together…it keeps it interesting."
The new album expressly builds on Aldean's reputation for finding quality songs and for defying categorization.  It covers broad turf and is held together by Aldean's unique voice and by his refusal to stick with one sonic or lyrical theme.  NIGHT TRAIN takes a twisting journey, transporting the listener through a variety of emotions and distinctive instrumental sounds, adding to Aldean's reputation as an unpredictable, uncontainable hard rocking country artist.
 
Longtime producer Michael Knox is back for the fifth time, along with Aldean's road band that, in a departure from country's status quo, have played on every song he's recorded in his career, creating the unique synergy between Aldean's records and live show that he's become known for.
"There's no formula to music," Aldean notes. "It's meant to be experimented with. You're supposed to try things. So I love getting in there with my guys and coming up with sounds that nobody else really uses."
 
NIGHT TRAIN Track List:
1. This Nothin' Town
(busbee / Neil Thrasher / Wendell Mobley)   
 
2. When She Says Baby
(Rhett Akins / Ben Hayslip) 
3. Feel That Again
(Neil Thrasher / Wendell Mobley / Vicky McGehee) 
4. Wheels Rollin
'
(Neil Thrasher / Wendell Mobley / Hillary Lindsey) 
5. Talk
(Neil Thrasher / Wendell Mobley)
6. The Only Way I Know (with Luke Bryan and Eric Church)
(David Lee Murphy / Ben Hayslip)
 7. Take A Little Ride
(Dylan Altman / Rodney Clawson / Jim McCormick) 
8. I Don't Do Lonely Well
(Neil Thrasher / Tom Shapiro / Chuck Wicks) 
 
9. Night Train
(Neil Thrasher / Michael Dulaney) 
10. 1994
(Thomas Rhett / Luke Laird / Barry Dean)
11. Staring At The Sun
(Neil Thrasher / Wendell Mobley / Tony Martin)
12. Drink One For Me
(Neil Thrasher / Wendell Mobley / Tony Martin)   
13. Black Tears
(Canaan Smith / Tyler Hubbard)
 
 14. Walking Away
(David Lee Murphy / Rodney Clawson) 
 
15. Water Tower
(Jason Sellers / Paul Jenkins / Michael Dulaney)
 
For a full list of appearances and information on NIGHT TRAIN as it becomes available, visit www.jasonaldean.com